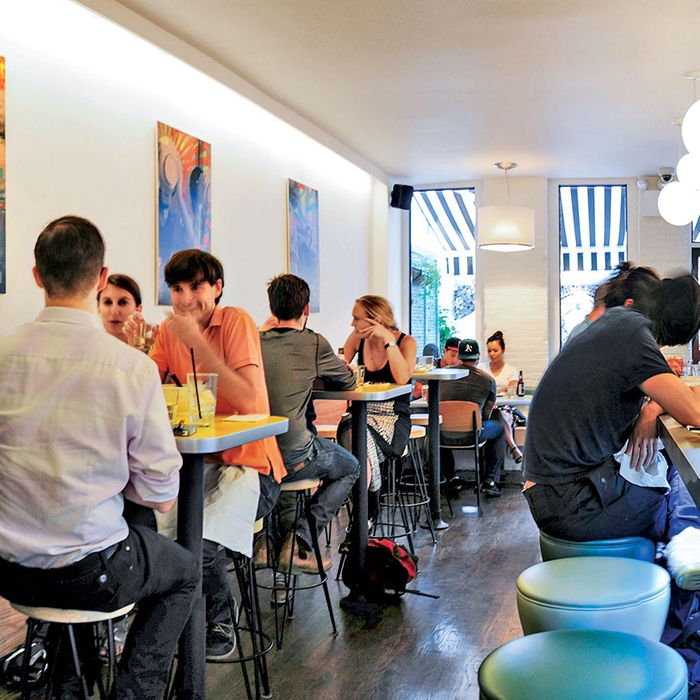 Ivan Ramen
Photo: Sarah Silberg/New York Magazine
In the realm of food, as in many other things, different members of my family have tended to cultivate different ­areas of expertise. My wife is the family authority on vegetables and healthy cuts of fish. My eldest daughter, Jane, is our resident expert on pasta ("There has to be a little crunch on the teeth, Dad") and on the curating and preparation of all kinds of tea. When it comes to ramen, however, no one carries more weight in the Platt family than my youngest daughter, Penelope. She has been a card-­carrying ramen loon ever since the great Japanese noodle chain Ippudo opened its doors down the block from her school. Over the years, she's penned reviews on the subject and happily traveled around town with her portly father, offering her learned opinion on miso ramens and chile ramens, and her favorite, shio (salt) ramen, which she likes to eat after carefully removing the egg from the top. Which is why, on a recent visit to Ivan Orkin's excellent new ramen outlet, which opened a couple of months ago down on Clinton Street, we all leaned forward in silence as Penelope took her first, dainty taste of Orkin's famous Tokyo shio ramen. Orkin, as you've probably heard, is an obsessive Long Islander who perfected his ramen skills, over the past decade or so, while running an award-winning noodle shop in Tokyo. His elemental shio ramen is made with a simple chicken stock, among many other things, and flavored with a special blend of Japanese salts. Penelope was pleased to note that the egg was optional (it's a $2 add-on) and that the noodles (which Orkin has custom made with rye) had a nicely chewy, "un-gummy" texture. Then, as we waited, she took a sip of the porky, salty, richly flavored broth. "It's really delicious," she said as she put down her spoon.
As it turns out, the Platts found plenty of other things to like about Orkin's latest restaurant besides this commendable bowl of ramen. There's the tastefully appointed, surprisingly comfortable storefront space, which includes two dining counters; two small but separate seating areas; and a commodious alfresco dining area, where you can slurp your noodles under a retractable striped awning while admiring an intricate ramen-themed wall mosaic of a pig, a chicken, and waves of noodles. Unlike in his more rudimentary Slurp Shop noodle counter uptown, Orkin and his chefs have use of a state-of-the-art kitchen here (it occupies an entire storefront space of its own next door), where they can indulge in all sorts of interesting non-ramen fusion experiments, many of which, like the ramen creations, also happen to be delicious to eat.
"I give these pork meatballs ten stars out of ten," said Ms. Platt, who, for the record, is not usually a fan of pork meatballs of any kind. The meatballs in question were deep-fried in a crunchy panko crust, drizzled on the plate with buttermilk dressing, and dusted with dried bonito flakes for an extra umami punch. They came to the table with a cooling pile of shaved daikon, which the kitchen pickles in vinegar and tops with a satisfyingly chunky XO sauce made with dried baby shrimps and scallops mingled in chile oil. There were also tiny deep-fried chicken hearts and livers in this little salvo of small-plates calorie bombs (with a ponzu honey-mustard sauce for dipping); an ingenious, heartburn-inducing play on old-fashioned scrapple molded into the shape of a savory okonomiyaki waffle; and an excellent, lemony version of Cajun dirty rice folded with rich little nuggets of ankimo, or monkfish liver.
But ramen is the reason people visit Ivan Orkin's restaurants in droves, and as with the small plates, the selection at this new flagship restaurant is much more interesting and various than at the counter operation uptown. While Daughter No. 2 happily sipped her shio ramen, her dad was digging into another Orkin signature dish called the triple-pork, triple-garlic mazemen, a kind of fatman's fantasia comprising crisped garlic, pork chashu, bacon, and a deeply flavored, almost pastalike pork sauce. The mushroom-based broth in Ms. Platt's vegetarian shoyu ramen was almost as rich as the other protein-based broths we sampled, but the dish we couldn't stop talking about was the famous four-cheese mazemen, which is made with a mix of three Italian cheeses plus cream cheese and tastes, as you get to the bottom of the bowl, like some strange, fiendishly addictive Japanese version of spaghetti carbonara.
Some of Orkin's sophisticated, gut-busting creations are not quite as successful as others, of course, and the food has such an overwhelming, one-note richness to it that if you're not careful, you'll find yourself mainlining tubes of Mylanta in the middle of the night. The Platt ladies wouldn't let me finish the delectably creamy remains of my cheese mazemen noodles (or the almost as delectable spicy red-chile ramen), and when a platter of crunchy whole prawns slathered in Japanese Kewpie mayonnaise arrived at the table, they furtively pushed it to the side. I was permitted a taste of a new Orkin invention called tofu Coney Island (a vegetarian version of chili cheese fries, featuring a dense ragù of mushrooms and red miso), but when our waiter announced that, in the original David Chang style, there were no desserts at this ramen joint, they all let out a collective sigh of relief.

Ivan Ramen
25 Clinton St., nr. Stanton St. 646-678-3859; ivanramen.com
Hours: Lunch seven days 12 to 3:30 p.m., dinner seven days 5:30 to midnight.
Prices: Small plates, $3.50 to $12; ramen, $13 to $15.
Ideal Meal: Pickled daikon, Lancaster okonomiyaki, pork meatballs and/or ankimo dirty rice, triple-pork-triple-garlic and/or four-cheese mazemen.
Note: The restaurant will begin serving a variety of new cold-noodle preparations this month.
Scratchpad: One star for the surprisingly comfortable room, one star for the inspired small-plates creations, and another for the excellent noodles.
*This article appears in the July 14, 2014 issue of New York Magazine.