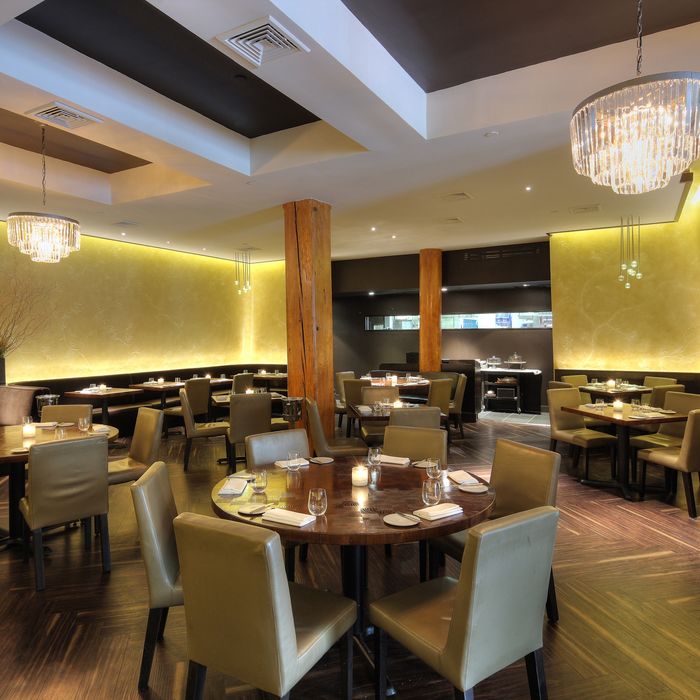 The dining room at Bâtard, one of NYC's biggest recent openings.
Photo: Melissa Hom
Welcome to Platt Chat, the column where New York critic Adam Platt talks with Grub editor Alan Sytsma to discuss the dining world's most pressing issues. This week: Are restaurants getting fancier?
Alan Sytsma: The common wisdom is that summer is a slow season for new restaurants, especially in New York. But this year we've had a slew of openings. What's struck me is that some of the more high-profile restaurants, such as Cherche Midi or Bâtard, seem to be pulling back from prevailing trends like small plates and stripped-down dining rooms. What do you think?
Adam Platt: First, let's just acknowledge that in the restaurant world, we are subject to an endless parade of trends. There are major trends, and there are subtrends, and there are mini-themes and trends within those subtrends. The austere, haute-forager trend may have mercifully run its course this summer. With the announced closing of Wylie Dufresne's wd~50, we may also be at the tail end of another long epochal trend, the one where great maestro chefs, like Ferran Adrià, set themselves up as exalted magicians and artists. These days, even the most talented geniuses — someone like Daniel Humm or Paul Liebrandt enjoying his new self-imposed exile out in Brooklyn — strive to be seen as regular, hamburger-loving chefs.
That's a bolder claim than what I was thinking.
There's a lot of sophisticated cooking out there, but the idea of a grand meal being done by this one great auteur up on a pedestal, or behind a curtain, feels like it's slowly going away, and it's been moving in that direction for almost a decade. As I said in my recent post about David Chang and April Bloomfield's influence on restaurants, the chef culture is front and center in restaurants, but the idea of an auteur is out. There are still legendary culinary wizards out there, and you have restaurants like Alinea in Chicago, but certainly in this town, there isn't really any one magician-chef whose tricks diners are lining up to see.
So the answer to "Who will be the next David Chang?" is: "There won't be one"?
In the piece about Bloomfield and Chang, I asked if they'd be as influential in the next decade, and the answer is probably not. The wheel turns. But you mentioned Bâtard, and Cherche Midi. Both are being opened by longtime restaurant professionals, as opposed to kitchen-slave chefs. Both serve the kind of classic, traditional dishes that would have seemed anachronistic last year, or even last month. David Waltuck has a new place coming down the line, too. I could be wrong, but I sense a slow return to a certain kind of elegant, old-fashioned pulchritude.
Bâtard seems like a good example of your earlier point, since its previous iteration was all about Paul Liebrandt when it was Corton, but the new iteration feels less chef-centric.
The audience for the kind of stuff Liebrandt wanted to do seems to have evaporated. Bâtard is a much more common-sense, "gourmet" production. The room isn't cramped and crowded, the food is moderately priced for what you get, and there's good wine to choose from even if you don't happen to be a billionaire. The menu is manageable, and the cooking feels familiar and comfortable without being too backward-looking. Most important of all, it tastes good. I enjoyed it, but then, I'm a confirmed fuddy-duddy. Who knows whether it will be a success?
Is the post-gourmet world over? Do you think tablecloths and delicate stemware are poised for a comeback?
I think there will always be elegant dining in a city like New York. I don't know whether we'll have another lavish, splashy "gourmet" opening like, say, Michael White's seafood place Marea anytime soon. Clearly, though, there's an appetite, and a market, for slightly more lavish bistro-style food. With the economy recovering, there's money coming back into the business now, for better or worse. I'm sensing less patience these days with the high-minded theatrics for the haute-forager era — the tiny bites of forest roots and chewy local mollusks, the dainty pieces of pork neck, gently smoked over little pyres of burning hay.
Where does a restaurant like Roberta's fit into this? Are you willing to declare the end of Brooklyn restaurant fetishizing?
Well, you live in Brooklyn, so that's your call. I love Roberta's, but the last time I visited, the Clintons were there, along with several people who looked like refugees from some of the more gastronomically challenged regions of Bergen County. It's a great restaurant, no doubt, but it's also become one of the de rigueur "Brooklandia" destinations for non-Brooklynites. The last restaurant in Brooklyn that I liked was Dover, on Court Street, which exhibits many of the trends we're talking about. You can get a very nice $35 caviar pie at Dover, provided you have the funds, and a $65 chicken for two served with morels. There's a $180 bottle of 1er cru Mersault on the list. The room is a little Spartan, but if you close your eyes, you could easily be dining in a restaurant owned by Mr. Nieporent himself.
Earlier: The Chefs That Changed America: A Decade of David Chang and April Bloomfield