This slice does not negotiate with terrorists.
Photo: iStockphoto
Some shadowy organization is threatening to bring down the entire slice economy by damaging the reputation of individual pizzerias. "Your business," the group's delightfully anachronistic snail-mail missives instruct, "has been targeted for extortion. The selection process is random, and was not triggered by any event under your control." So far, business owners in Michigan, California, and New Hampshire report they've been instructed to pay one bitcoin each, or else the group will resort to their grab bag of 16 methods "commonly employed in cases of non-compliance," or anything from bombing Yelp with bad reviews to telling the Feds there's terrorist-training activity taking place in the prep kitchen. Additionally, e-extorters write, if owners don't respond with alacrity, that one bitcoin ($650 or so, presently) becomes three bitcoin. (A link to the Coinbase exchange site is helpfully provided.) The demand letter, which helpfully announces itself as a "LETTER OF EXTORTION," looks just like a piece of junk mail.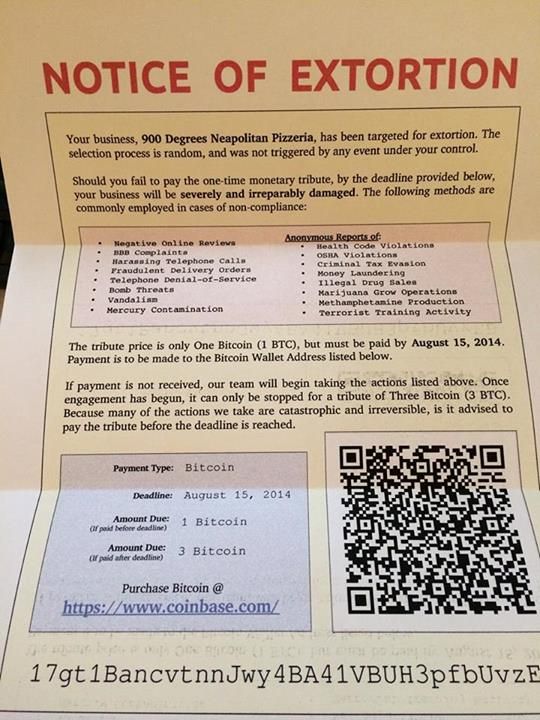 Oh, the tribute price is only one bitcoin? Cool.Photo: 900 Degrees/Facebook

Reddit's r/bitcoin subreddit is curently full of armchair quarterbacking and sleuthing, and despite the specter of negative Yelp reviews, pizzeria owners don't seem to be taking it too seriously. "I'm looking at it and I'm thinking, Oh, it's one of my friends playing a joke on me," says Mike Raymond, owner of GRPD Pizza in Grand Rapids. The owner of 900 Degrees Neapolitan Pizzeria in New Hampshire put the letter up on Facebook with the befuddled caption "What the heck is a BitCoin??" The group gave an August 15 deadline, mostly, one assumes, to give the owners enough time to figure out how to open Coinbase accounts.
Pizza Owners Being Extorted for Bitcoin Don't Know What Bitcoin Is [Wire]
Bitcoin New Payoff for Extortionists [WOODTV]