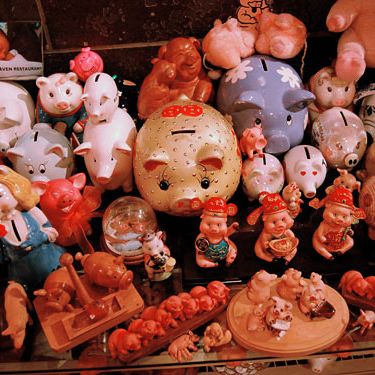 This is what happens when you tell people you like pig stuff.
Photo: Patrick Siggins
Nancy's Pig Heaven, or the Upper East Side restaurant originally known as Pig Heaven when current proprietor Nancy Lee was just its host back in 1984, will likely close down before the month is over. The good news is that the restaurant, along with its famed tabletop shrine of toy pigs, will likely live on in a new location; Lee tells Wall Street Journal columnist Ralph Gardner Jr. she has lost her lease, and rumor has it the building will be demolished in advance of some new condos going up on the site.
Pig Heaven was opened in 1984 by RedFarm restaurateur and Chinese food expert Ed Schoenfeld, who, along with the late, visionary chef-owner David Keh, brought in the guy who made dumplings for Madame Chiang Kai-shek. Keh served dishes like pork buns with shredded pig's ear 20 years before David Chang and April Bloomfield opened their first restaurants specializing in some of the same.
The restaurant changed hands in 1987, however, and since then it's been known as something of a celebrity magnet; Tom Hanks is a fan, and autographed head shots hang on the wall. But Nancy's Pig Heaven is equally well known for its old-school luxe dining room and plates of spare ribs, and especially the Peking duck with scallion pancakes on the side. If you haven't tried them yet, you have at least a week or so left.