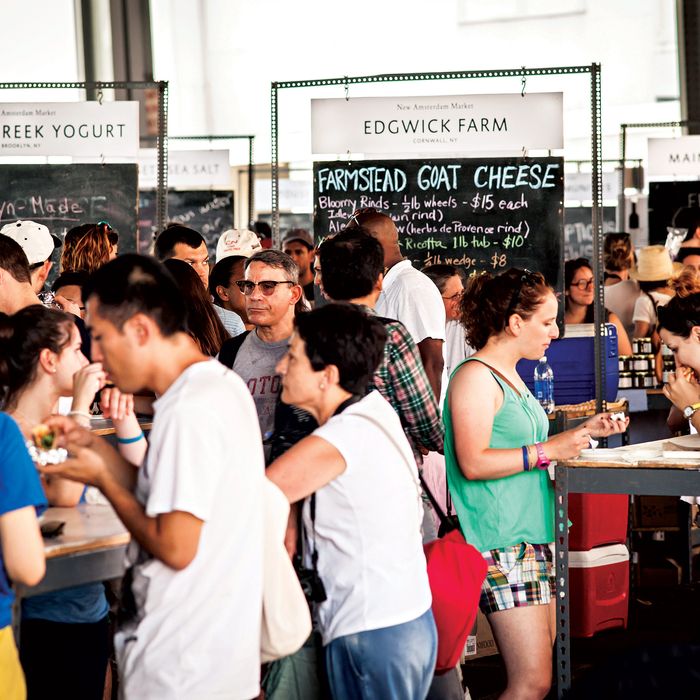 The market, in 2013.
Photo: Paul Wagtouicz for New Amsterdam Market
We've long been fans of New Amsterdam Market, the genuine and consistently compelling vendor-based marketplace that's been held seasonally since 2007 on the site of the former Fulton Fish Market, and we're not alone. Today, however, founder Robert LaValva announced New Amsterdam would cease to operate in front of the former "New Market" building, where farmers, fishmongers, butchers, and bakers have been coming together on a parcel underneath the FDR Drive onramp controlled by Howard Hughes Corporation, which also leases several other properties in the landmark neighborhood. The site is also part of a new waterfront construction, and whatever the developer ends up building on Pier 17, it is now clear that it will not involve New Amsterdam Market: LaValva, whose nonprofit evolved to become the most prominent opposition to the developer's plan, today sent an email stating the organization was unable to "raise the funding" to grow, and that the final market had in fact been held on June 21.
In addition to the financial reasons, LaValva writes that the organization was unable to attract "influential backers" along the way. He also writes that City Councilmember Margaret Chin "betrayed the community" by seemingly siding with Howard Hughes Corporation at the expense of the market. Chin tells Gothamist the claim is "false," in the meantime, adding that LaValva's email "was sent without the approval or knowledge of the New Amsterdam Market board." Here is is, in full:

July 14, 2014

Dear Friends:

I am sorry to announce that New Amsterdam Market has ended, and will no longer take place on South Street.

Founded in 2005, New Amsterdam Market was first staged at the site of the Old Fulton Fish Market in Lower Manhattan on December 16, 2007. Over the ensuing seven years, the market grew in frequency and scope while nurturing an evolving community of small businesses dedicated to sustainable food production, regional economies, and fair trade.

Through our steadfast presence under every adversity, we also championed the preservation of New York City's oldest commons, where public trade has been conducted since 1642. We held a total 88 markets and numerous innovative celebrations of our region's bounty; supported nearly 500 food entrepreneurs; and contributed to the creation of more than 350 jobs.

However, I was never able to raise the funding or attract the influential backers needed for our organization to thrive. Furthermore, we were dealt a mortal blow in 2013 when Council Member Chin, who had long professed to support our cause, betrayed the community in favor of a suburban shopping mall developer, Howard Hughes. As a result, Lower Manhattan has already lost more than one acre of beloved and irreplaceable public space and is now seeing its most precious public asset ruined by inappropriate programming and terrible waterfront design.

Our last market at this location was held on Saturday, June 21, 2014.

I thank all of you who supported this endeavor.

Sincerely,


Robert LaValva, Founder
New Amsterdam Market

Of course, this is a huge blow for regional food in New York City, and predictably, reactions so far have ranged from shocked to solemn. They've also included calls to continue the market's bid to preserve the East River-fronted site's 400-year history as a real market district, not just a gussied-up food hall inside a huge retail complex.
@NewAmsterdamMkt This is too bad and too sad. Thanks to Robert LaValva and all who persevered.— David Tanis (@DavidTanisCooks) July 14, 2014

.@NewAmsterdamMkt is dead, long live @NewAmsterdamMkt! Very sad news. Here's the homage @EdibleManhattan ran in 2012 http://t.co/Oy4rmnrEKq— Gabrielle Langholtz (@Glangholtz) July 14, 2014

for years @NewAmsterdamMkt was the most influential food movement in nyc salud! robert! @GrnRabbits @rachelwharton @Chefs4Marcellus— jimmy carbone (@jimmypotsandpan) July 14, 2014


LaValva has, in the past, intimated that he might seek to open a vendor market elsewhere if plans to make New Amsterdam Market a permanent fixture of the old Fulton Fish Market site fell through. He has not yet announced any plans to that effect.
Earlier: Can New Amsterdam Market Revitalize the Post-Sandy Seaport?
Related: Seaport Working Group Formed to Address Fulton Fish Market Site's Future
* This post has been updated with new information.