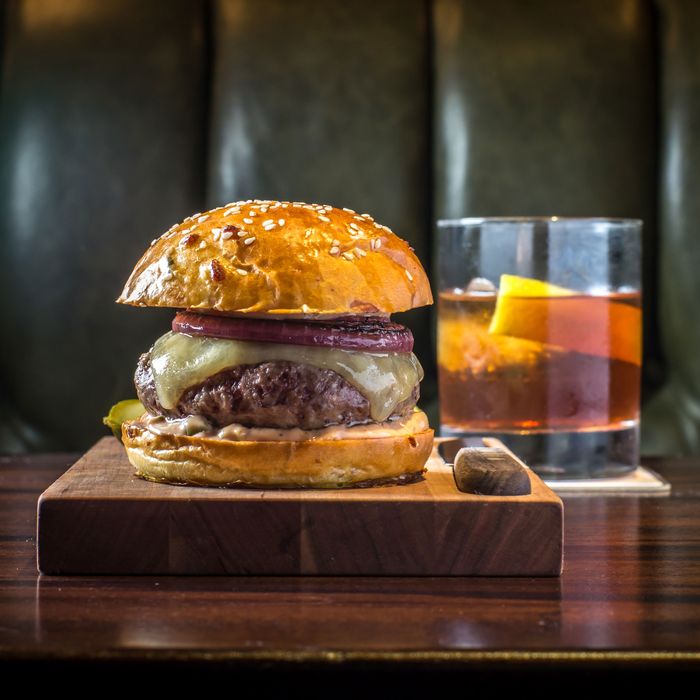 Daniel Humm's staff assembles one mean burger.
Photo: Paul Wagtouicz
In this patty-mad city, you can find high-end burger royalty (Minetta Tavern, the Spotted Pig), outstanding no-frills options (JG Melon, Shake Shack), iconic stand-alones that create their very own categories (the spartan, lunch-only Luger burger; the world's most sought-after veggie burger), and there are always new contenders for connoisseurs to consider adding to the canon. The city's latest batch of remarkable burgers runs the full gamut, from excellent $10 knockouts all the way up to patties that are painstakingly assembled in a Michelin-starred chef's kitchen. These 13 newcomers are all poised to take their places, in one form or another, among New York's hamburger mainstays.
The Rosette Burger
Where: Rosette
Price: $17
Nick Curtin tops his Pat LaFrieda aged-beef blend (a mix of brisket, chuck, and short rib) with cloth-bound Cheddar, tomato confit, and fancy Marie Rose sauce, which is essentially a blend of tomatoes, mayo, Worcestershire, lemon juice, and pepper. Bonus: The pain au lait bun is baked in house and brushed with beef fat.
Prime-Rib Burger
Where: Cherche Midi
Price: $21
If you're not going to splurge for the full-on prime rib, order Keith McNally's excellent burger. The dry-aged, custom LaFrieda blend comes with bacon marmalade, roasted mushrooms, and Gruyère cheese.
Hamburger
Where: Fritzl's Lunch Box
Price: $10
This Bushwick restaurant has been open for about a year, but Dan Ross-Leutwyler's six-ounce burger already tops many "best" burger lists, and for good reason: It's a blend of fatty chuck (60 percent) and cheek (40 percent), with chopped, housemade bread-and-butter pickles, onions, and special sauce (charred-miso mayonnaise, Ross-Leutwyler reveals). You definitely want to add melted Cheddar cheese for $1 extra.
Double-Cheddar Burger
Where: The Dutch
Price: $21
One of the tastiest burgers in this city is only available at lunchtime (and for special occasions, like the Fourth of July): The Dutch recently updated its burger offering with a dressed-up Shackburger — two, four-ounce, 20 percent dry-aged LaFrieda patties, housemade habanero pickles, and a bun made by James Belisle at Lafayette.
Burger
Where: Navy
Price: $16
And right down the block from the Dutch, you can try Camille Becerra's burger, too — technically only on the lunch menu, but available for dinner if requested. It's an organic beef burger (the meat comes from the Lancaster Farms co-op) with caved-aged Cheddar and strips of "billionaire bacon" (roasted in maple and chili de arbol, which is definitely what you want).
Double Burger
Where: Wilma Jean
Price: $10 (or $6 for a single; cheese or bacon are $1 extra)
Rob Newton's burger is definitely a steal — but that doesn't mean it skimps on the quality: The patties are fashioned from grass-fed, antibiotic-free beef; the bun is a sesame-studded Martin's variety that's toasted in beef fat; and it all gets finished off with American cheese and Mississippi comeback sauce.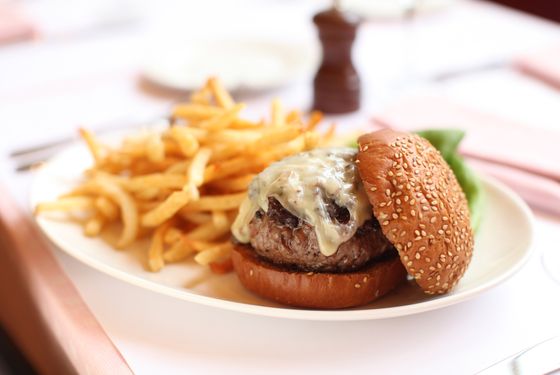 The prime-rib burger at Cherche Midi.Photo: Melissa Hom
Dry-Aged Cheeseburger
Where: The NoMad Bar
Price: $17
Daniel Humm's fancy-pants burger proves that chef burgers are back, in a big way: He starts with a custom blend of LaFrieda beef — 25 percent fat and a mixture of bone marrow and suet (raw beef fat) — and completes it with Cheddar, red onion, pickles, and a brioche bun.
The Burger
Where: Emily
Price: $18
This Clinton Hill restaurant is known for its pizza, but Matt Hyland's monstrous burger, with barbecue aïoli, four-year Grafton Cheddar, charred onions, pickles, and a homemade bun, is also excellent. And, it's worth noting, it comes with triple-cooked fries.
Duck-and-Foie-Gras Burger
Where: élan
Price: $20
David Waltuck makes a "secret" off-menu burger, with bacon mayonnaise, caramelized onions, fig chutney, lettuce on a toasted brioche bun — and a side of crispy, smashed fingerling potatoes.
Skillet Burger
Where: Narcissa
Price: $18
John Fraser's been praised for his way with vegetables, but he can put together a truly solid burger, too: His pan-fried, short-rib-and-brisket LaFrieda burger — finished off with manchego, watercress, and guacamole on a brioche bun — is available during brunch.
Dry-Aged Cheeseburger
Where: The Gander
Price: $16
Adam Platt's a fan of chef Jesse Schenker's burger, which is only served for lunch. The eight-ounce sandwich includes bread-and-butter pickles, but the real highlight is the rich bone-marrow mayo.
Blue Cheese-Stuffed Burger
Where: Emmett's
Price: $14
For a strong finish to a deep-dish pizza dinner, order this burger — topped with caramelized onions and more blue cheese. There's also a lighter (well, relatively) straightforward cheeseburger on the menu.
The Fedora Burger
Where: Bar Sardine (not Fedora)
Price: $10
Gabriel Stulman's redo of Chez Sardine opens this week with a whole new vibe and menu, which includes an awesome, affordable burger. Chef Mehdi Brunet-Benkritly is serving his Fedora Burger — named after a burger he created for an event years ago while representing the restaurant, but never actually served at Fedora. It's a chuck-and-brisket patty with barbecue mayo, raw red onions, smoked Cheddar, pickled cucumbers, and shoestring potatoes on a potato roll.
Related: Keith McNally's Cherche Midi Opens With a $21 Prime-Rib Burger
Related: The Nomad Bar Will Serve Canlis Salads for Two Weeks Only