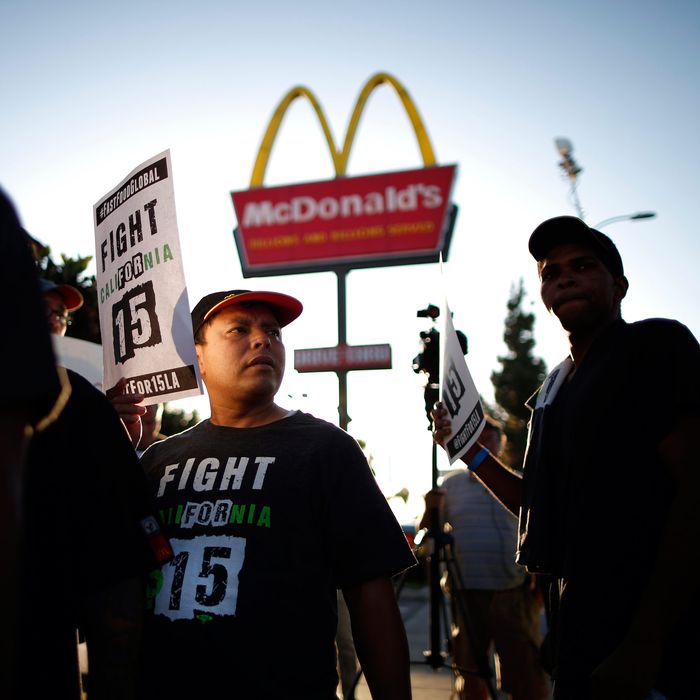 Next stop: McDonald's Drive in Oak Brook, Illinois.
Photo: Lucy Nicholson/Reuters/Corbis
In a ruling issued yesterday, the National Labor Relations Board announced that McDonald's Corp. can be considered a "joint employer" alongside franchisees when it comes to resolving labor-practice disputes. The decision came as part of a closely watched case brought by workers fired for unionizing, and the unprecedented move stands to broaden a previous interpretation of when, exactly, companies including Burger King and Yum Brands — whose stores are nearly all franchisee owned and operated — will be required to address instances of labor violations and lawsuits related to wages and discrimination. The fast-food giant, perhaps unsurprisingly, is trying to keep that franchisee-franchisor Great Wall in place.
In response to the ruling, the chain called the move "radical," "against decades of established law," and "a concern" for small businesspeople everywhere. But workers, in their NLRB complaints, argue corporate is already too inexorably a part of their business, dictating uniform codes and routinely conducting spot checks at franchises. Critics are pleased that the decision will also complicate McDonald's Corp.'s attempts to blame franchisees for setting low employee wages. Given everything that's at stake, the Times adds that the possibility of the Supreme Court hearing the various arguments is high.
McDonald's Could Be Liable for Labor Practices [AP]
Ruling Says McDonald's Is Liable for Workers [NYT]
Earlier: McDonald's Workers Claim They Were Fired for Unionizing