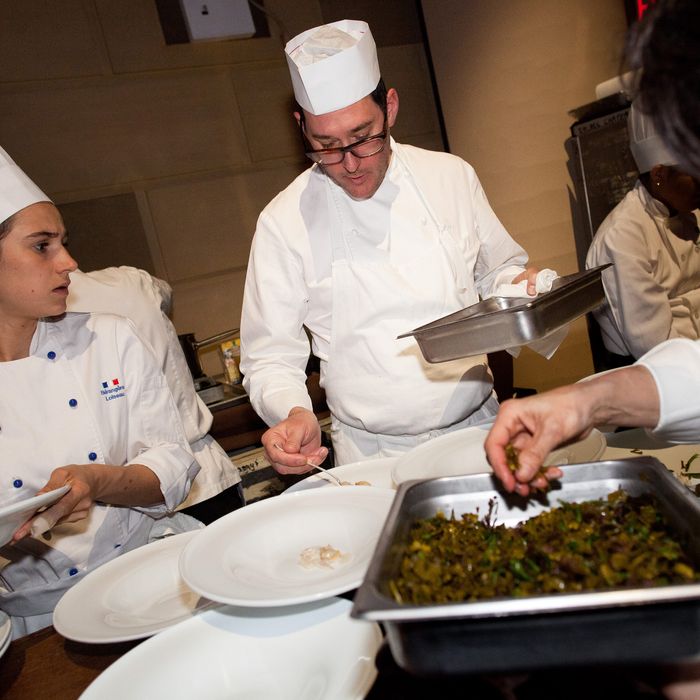 Ladner, at Del Posto.
Photo: AP Photo/John Minchillo
It's been 53 years since the great Jacques Pépin decamped from the brigade at Manhattan's preeminent French restaurant Le Pavillon to go and revolutionize fried clam strips and chicken potpie at Howard Johnson's, and now here's a worthy successor to Pépin's high-going-low move in the form of Del Posto chef Mark Ladner's Pasta Flyer, the "guerrilla-style" gluten-free pasta side project and pop-up we've mentioned earlier. The fine-dining chef's Kickstarter needs just a few thousand dollars to get funded, with less than 48 hours remaining on the clock. There are plenty of reasons to support it beyond its gluten-free premise, namely that Ladner is a chef's chef who wants to break into the fast-food model.
The project grew out of Ladner's experience mastering gluten-free pasta at Del Posto, and tellingly it has support from his boss Mario Batali, who shouted out the chef's "passion project" on Twitter, as well as Del Posto pastry chef Brooks Headley. Il Buco Alimentari and Momofuku are behind it, as is David Chang himself, along with Cesare Casella, Dave Arnold, Matthew Jennings, and others. Pat La Frieda chipped in $10,000 the other day. Here's the Kickstarter:
"The majority of my background has been in really inexpensive dining, which is what I love," Ladner told Grub recently. "I've always missed it."
There's a lot going for this project, not to mention the long-awaited reveal of whatever the 21st-century version of the iconic HoJo's clam strip is. Visit the campaign page below for more information.
Pasta Flyer: Italian Cuisine, Japanese Style (&Gluten; Free!) [Kickstarter]
Related: Alternative-Flour Power: Gluten-Free Food Enters the Fine-Dining Mainstream