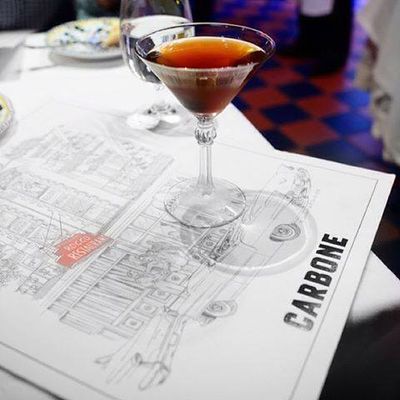 The blueprint.
Photo: Sinclair Communications/Facebook
Things happen very, very fast in Hong Kong, which is why it's entirely plausible that this Facebook post claiming a "feast of New York-Italian cuisine" will be available next month when a branch of Jeff Zalaznick, Mario Carbone, and Rich Torrisi's West Village restaurant Carbone opens in that city's LKF Tower is the first anyone's heard of the project. Zalaznick confirms the news to Eater this morning, however, adding that the targeted opening date is mid-August and that Carbone No. 2 will have a "menu that's similar to the one served in New York but also influenced by local ingredients." Hong Kong, get ready for red sauce and immense parmesans.
On the home front, the expansion-minded restaurateurs are also moving along with uptown, downtown, and Brooklyn locations of Parm, and the bar component of their forthcoming Ludlow Hotel restaurant Dirty French opened earlier this month.
Post [Sinclair Communications/Facebook via Eater]
Related: What to Drink at the Torrisi Team's New Bar Inside the Ludlow Hotel
* This post has been updated throughout.