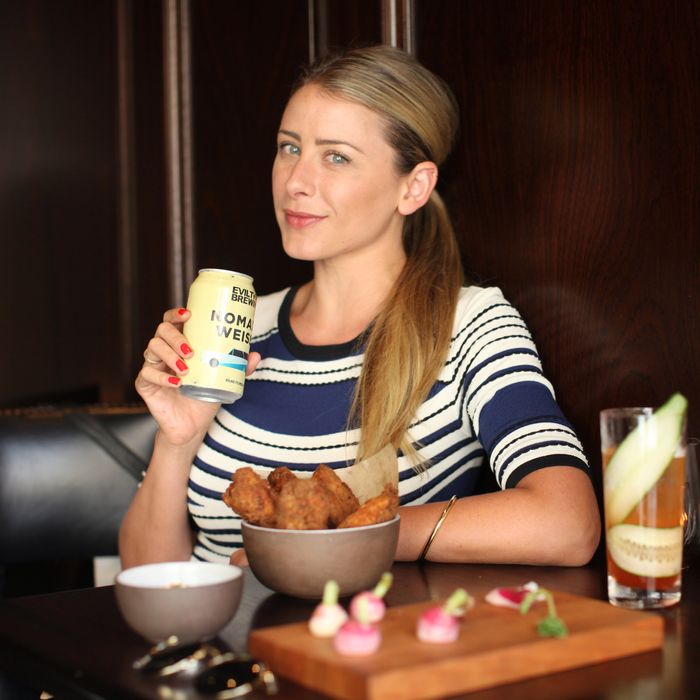 "I've also been told I was intimately involved with a single slice of cheese pizza."
Photo: Melissa Hom
Lauren "Lo" Bosworth has come a long way since her famed stints on MTV's Laguna Beach and The Hills: She now runs her own lifestyle company, lives in New York, and is a culinary school graduate. "I host a lot of dinner parties," she says. "I had 28 people over for Passover, and I'm not even Jewish!" This week, Bosworth baked Flag Cake while in the Hamptons for the 4th, and also enjoyed a half-pound of short ribs, fried chicken at the NoMad, and tons of raw fish. Read all about it, straight ahead.

Thursday, July 3
I get off the train at Bridgehampton starving, and go to Townline BBQ and order almost everything on the menu. My friends and I end up with two pulled-pork sandwiches, two pieces of cornbread, one piece of corn, half a pound of beef short ribs, 14 chicken wings (that's two orders), and three deep-fried pieces of mac and cheese. Everything is consumed. All the foods. All the foods! It's also the first time I've eaten a chicken wing in my life. My friend demanded I dip it in the provided ranch dressing and I complied.
It was delicious. I contemplate why I've never eaten a chicken wing before. Without coming to a resolute answer, I move on to my first glass of rosé of the weekend. Basic, amirite? Hamptons and rosé, blaaa.
Unsurprisingly, after the wing and pork feast, there is no follow-up meal later that evening. I feel as if I may never eat swine again.

Friday, July 4
I wake up early to the violent pitter-patter of rain on the skylight directly above my bed. Happy 4th of July! Aware of the weather report earlier in the week, I've planned this to be the morning in which we endure our very own Tough Mudder, running wild through the backwoods (neatly paved roads) of Sagaponack in the downpour.
I've made a Flag Cake (my tenth year in a row), and I've modified the recipe this year to include Greek yogurt in both the batter and frosting. The result is a moist cake — lower calorie, but with an equally delicious sugary exterior. I offer my friend the first slice and end up finishing it for her.
Around 1 p.m., we gather ourselves and post up at Bobby Van's in Bridgehampton for a bite to eat before our party. I order an arugula salad with bacon and avocado. I decide that if my holiday weekend were to be shot as a horror movie, it would be entitled, Return of the Pork, Part II. My salad and French fries are not satisfying, and I feel lost — I'm too many salty calories deep now to order additional foods, as the degenerates I'm dining with slug back soiree-before-the-soiree vodka martinis. Whatever. It's pouring, and sometimes food is just food.
We go directly from lunch to the party, and my Flag Cake is forgotten at home. I subsist on a liquid diet of Don Julio for the rest of the afternoon. I've also been told I was intimately involved with a single slice of cheese pizza between the hours of 8 and 10 p.m.

Saturday, July 5
Oh, sunshine. Oh, happy day! I tear out of the house early, run six miles in a post-July 4th panic, and return home to fresh berries picked up from a farmers' stand and monster-size cookies from Levain Bakery in Wainscott. I'm appreciative of the delicious fruits, and angry that my friends can't remember the name of said stand, as they know that I'm recording my eats for this Diet.
I make the executive decision to put some additional fresh food into my body for the first time in what feels like days. We head to Seth Levine's new spot, the Seawater Grill at Gurney's Inn. I ate here once before and am happy to return, the food feeling schmancy and light, molecular yet comfortable. I delight in ordering off of the appetizer menu when I dine out. The raw fish really steals the show here, but the tuna-tartare tacos are a favorite, and the yellowtail crudo is fresh and light.
The rest of the day is spent on the beach. I consume two glasses of Veuve Clicquot with July 5th revelers wearing more neon than I'm generally comfortable with. In the early evening, just as the sun dips, we head back to the serene quiet of Sagaponack.
Flag Cake for all. A nap. A raw vegetable salad. Grilled chicken and shrimp. Backyard fare I prepare quickly for my weekend family. Another bite of Flag Cake.
We pile into the car and head to a friend's house in Southampton for nightcaps. Rosé, dark whiskey, and a beer with a name too German (French? Austrian?) to recall. I jump in the pool at two o'clock in the morning.

Sunday, July 6
We wake up early to journey home to Sagaponack. I demand we stop at BreadZilla on the way back, picking up a dozen bagels, various cream cheeses, and lox on lox on lox. I feel as if I might die from hunger.
Lunch is salad samplers from Loaves & Fishes, off Old Montauk Highway: two chicken meatballs in a tomato sauce, delightful fresh peas, and a quinoa, carrot, and chives salad. Everyone is suddenly going ga-ga over Loaves & Fishes. I'm charmed and full, but not convinced.
The ride home on the 7 p.m. train is surprisingly easy and quick. Upon arrival at Penn Station, my disgusting, gluttonous ass decides it's ready for more and orders RedFarm as my final meal of the weekend. Wun Wun delivers it to my door: I eat a single pork-and-crab soup dumpling, three bites of crispy beef, six bites of duck-fried rice, and am immediately asleep for eleven hours.

Monday, July 7
I rise early. I feel mediocre. No longer exhausted, still deprived of my normal diet of fresh fruit and veggies and daily seafood. I drink a Kombucha, what I feel to be the cure for everything, and take a very long stroll along the West Side Highway to begin my Monday.
For lunch, veggies. I've convinced myself that going into detox mode until dinner is the only way to go. I whip up avocado with chickpeas, toss in some olive oil with red-pepper flakes, and dip cabbage, endive, carrots, cucumbers, and radishes until I'm so full I struggle to do the dishes. Soho House does a similar crudité, and I order it often. I'm happy as a clam.
Speaking of: The Cherrystone clams I eat at Maison Premiere that evening are the most enormous I've seen in my life. No joke — four inches across, as large as the palm of my hand. Additionally, the oysters at Maison Premiere are, by the grace of God, the most splendid bivalves to ever be created in the history of bivalves.
My two friends and I drink wet martinis, and I'm informed that a wet martini has quite a bit of vermouth in it. More bivalves appear. I prefer the brine-y, East Coast boys over the creamier West Coast ones. My favorites of the night are the Peconic Pearls from Peconic Bay. In total, I believe 18 are consumed between the four of us.
Warm olives, salmon, fluke, and daurade crudo follow, and we end with warm scallops. Maison Premiere is delightful: The food, ambiance, and company are potentially unbeatable on a hot Monday night in New York City.

Tuesday, July 8
Grapefruit suprêmes with a fresh nectarine for breakfast. I will not eat grapefruit any other way. I think it's because I love the actual act of suprêming citrus fruit, the feeling of folding the pith and membrane over each other like pages in a book — so physically satisfying. The juice collects into the bowl I'm slicing over.
Lunch is late: I go to the NoMad, my favorite hotel and restaurant in the city, and indulge in the fried chicken with chili-lime yogurt, and fresh radishes dipped in butter and served with sea salt — in love. I wash it all down with the perfect aperitif to swig on a 92-degree day: the Fresca y Cerveza, made with Berliner Weisse, yellow chartreuse, strawberry shrub, jalapeño, agave, saline, and lemon.
I'm feeling exhausted now, and quite full. I seriously contemplate shutting July 8th down early, but decide I cannot betray my Grub Diet so close to the finish line and instead pray that my body digests my lunch more quickly. Quitting at 4:49 p.m. is out of the question when my plans for the evening include dinner at za best of za best: ZZ's Clam Bar.
At ZZ's, my first drink, the "Cilantro," shows up in a tall crystal glass, the spicy liquid hidden inside a Poblano pepper stuck directly into it, metal straw shooting out. A diner down the way is drinking her cocktail out of a coconut the size of a small soccer ball. I've never before been so eager to drink booze from large, fruity receptacles.
Then, it's oyster, oyster, oyster time. I slurp down six from Montauk with two options of mignonette sauce to choose from, along with cocktail sauce and lemon. Of course, they're fantastic. Onto uni toast. Holy. Moly. Uni. Toast. Gently placed on a slice of pretzel bread and topped with mustard oil and pickled green apple and chives, the sea urchin stuns me into a dreamlike state — a reminder that if executed skillfully food truly is a universal language of love. If you have anything at ZZ's, it must be the uni toast …
… Or the live scallop, with pistachios and brown butter. Or the parrotfish, watermelon, and coriander ceviche. Or another cocktail, which I do (two more times). One of the best meals I've eaten in New York City to date.