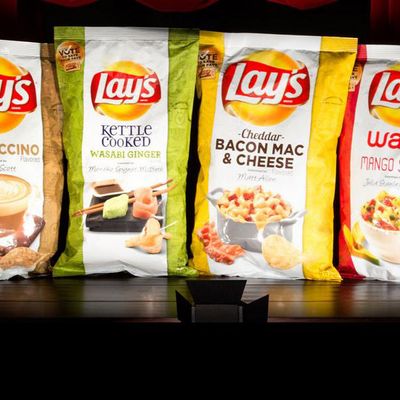 Oh, the choices.
Photo: Lay's/Twitter
Lay's dutifully tallied the votes of the social-media denizens who participated in an online survey and now it's contractually obligated to produce the four finalists in its "Do Us a Flavor" contest. In order of least to most weird, those would be Cheddar Bacon Mac & Cheese, Mango Salsa, Wasabi Ginger, and Cappuccino. Let's talk about that last one, which reportedly contains neither coffee nor caffeine.
Milk powder is a pretty common ingredient in the wheelhouse of mass-produced junk food seasonings as it is, freeze-dried fake coffee already exists, and Frito-Lay apparently will never caffeinate snacks again after its Cracker Jack'D snacks. All told, the idea of coffee potato chips is really not so far-fetched, but actually inevitable. After all, America is way behind the rest of the world and the greater Frito-Lay menagerie in general, which seems to spit out new flavors like Roasted Turkey and Butter & Soy Sauce Doritos every other day.
Cappuccino-flavored Lay's potato chips are headed to stores [LAT]