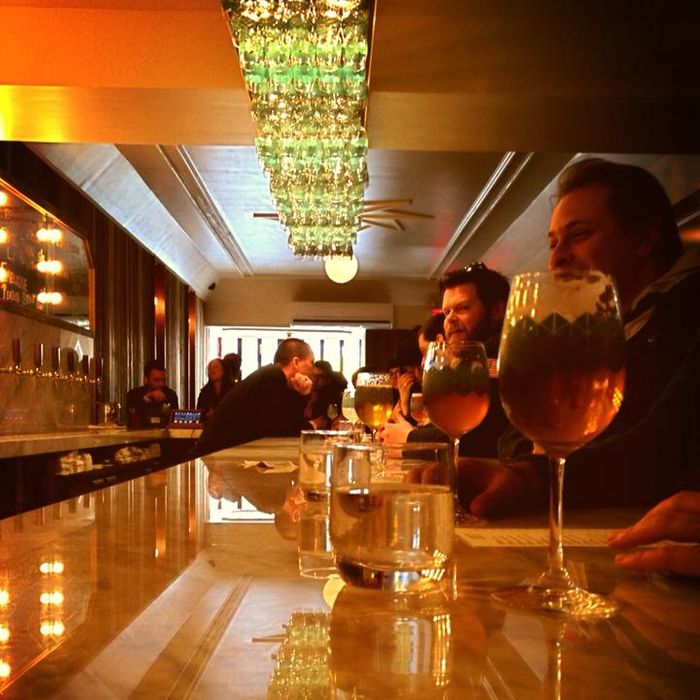 Get some beer, too.
Photo: Courtesy of Tørst
Why are you reading this? Why are you not somewhere getting drunk and mentally preparing for the U.S.-Belgium World Cup game, which starts very, very soon? (Game's at 4 p.m.) We can only assume you've got precious little time to figure out where you're going to go while you sneak away from work. Obviously, as interest in the tournament has grown, so has the number of bars and restaurants showing the game. Grub's got you covered: In addition to the options listed here, we've got eleven other great spots that will be showing the game this afternoon, including Empellon Taqueria, the Spotted Pig, Terroir, and even the Cheap Eats-approved Tørst. Get moving.
Tørst
Head to Greenpoint to watch the game on the beer hall's brand-new projector.
Osteria Morini
Michael White's oh-so-chic Italian restaurant is showing the game, too.
Spotted Pig
Or you could go to April Bloomfield's gastropub. While you're there, order some of the day's specials, like pea-and-farro porridge and summer-berry pudding for dessert.
Tertulia
At Seamus Mullen's restaurant, there's a merienda (mid-day) menu with tapas and skewers. You can also enjoy happy hour with a dollar off wine and beer.
Miss Lily's 7A
The new East Village outpost offers a great happy hour.
Red Rooster
At Marcus Samuelsson's Harlem restaurant, watch the game at the bar or, even better, outside on the patio.
The Meatball Shop
Both the Williamsburg and Lower East Side locations will have the game playing. And you might want to stay a while at the latter: It just introduced a full liquor menu last night.
The Butterfly
There's a secret pull-out flat screen in this bar — plus Eben Freeman's cocktails are fantastic.
Terroir Murray Hill
The bar will host a Battle of the Beers: New York, Connecticut, and Pennsylvania brews will face off against three different Belgian ones ($8-12 for each pairing).
Gotham West Market
Go for the big screens; stay for a bowl of Ivan Ramen.
Empellon Taqueria
Alex Stupak's lively West Village spot is the perfect setting for victory (hopefully).