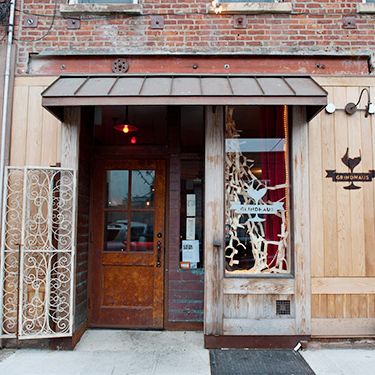 Two stars for Grindhaus.
Photo: Liz Clayman
This week, Adam Platt extolled the virtues of Ivan Ramen, giving it three (out of five) stars. Standouts included non-noodle dishes, like a okonomiyaki scrapple waffle, as well as the four-cheese mazemen, "a fiendishly addictive Japanese version of spaghetti carbonara." Elsewhere in the city, Pete Wells visited Grindhaus and praised its offbeat yet harmonious dishes, while Ryan Sutton and Robert Sietsema discussed their appreciation of Peter Luger's steak. Read it all, straight ahead.
Pete Wells visited Red Hook's Grindhaus and found the restaurant's food to be "earnest" and "fashionably austere." A comforting, almost homey atmosphere, along with fare like a vegetable tart with rutabaga and sourdough bread baked in a cast-iron skillet, made for memorable dining. Seemingly odd yet cohesive dishes like seared foie gras with strawberries in strawberry-rhubarb juice prompted Wells to ask the server for the same dish again, "before another course left the kitchen." Two stars.
Ryan Sutton and Robert Sietsema debated the (rather awesome) merits of Peter Luger's steak, what Sietsema called a "mystical experience." The medium-rare, very gently dry-aged steaks were "amazingly tender" and, while pricey, "worth saving up for and using for special occasions." While a tomato appetizer was mealy and the coffee "pretty awful," the meat was, and is, the main focus. USDA prime, strip, and steak for two with "buttery juices over it" all stunned, while the more affordable burger was worth eating once a week.
In his five-star review, Joshua David Stein found Russ & Daughters Café "nerve-wracking" in that it's a new venture for the famed Lower East Side establishment, but there's little not to like. The cafe was "intact but not identical" to its parent location, with gaspe nova smoked salmon "silky and thin as a pair of angel's panties," candylike sliced sturgeon, and more innovative dishes like sunny-side-up eggs atop a warm latke and nova. And Stein deemed the halvah sundae topped with sesame and salted caramel "sacred."
Michael Kaminer dined at the East Pole, declaring that the Upper East Side "might actually become cool," and gave it three (out of five) stars. Vegetable-centric dishes, including a beetroot-walnut hummus with "raw, rich flavor" and baby beets with beer-spiked hazelnut puree, wowed. While meat-focued entrées like striped bass were bland and the chicken Kiev "went half-eaten," the Peekytoe crab and avocado toast made "the best combo since chocolate and peanut butter."
The New Yorker's Amelia Lester reviewed Esca-like Barchetta, finding the food "bewildering" — not in a pleasant way, for the most part. The 11 different crudo options were too salty and oily, with a "haze of indistinct citrus flavors," and the soft-shell-crab with a mountain of melon on top had a "burnt, almost acrid taste." Although the rhubarb crostata had "a pleasing intimacy with butter," the lobster fettuccine disappointed.
Zachary Feldman headed to midtown, dining at Beautique. The "newest posh restaurant" was pricey, but hit its stride with French dishes like Comté cheese dumplings in spring pea soup and rabbit with fava beans. But more globetrotting dishes were "dicey": hamachi crudo with melon "pulled off the feat of being both boring and unwieldy," and cocoa crumbs on a seared duck breast "tasted like a grain-based energy bar." Desserts like Black Forest cake with Chantilly-cream dumplings "nearly eclipse the main courses, with impressive technique and attention to detail."
Steve Cuozzo dined al fresco, reviewing the city's two new park restaurants: Fornino and The Pavilion. While Fornino in Brooklyn Bridge Park offered both stunning views and "dandy" pizzas, The Pavilion in Union Square Park seemed "to think it's in the dangerous park of 30 years ago and needs to shield customers from the creepy goings-on around it" with a "forbidden-castlelike" facade. While The Pavilion's squid a la plancha was "first-rate," but the tuna niçoise proved disappointing and "flavor-free."