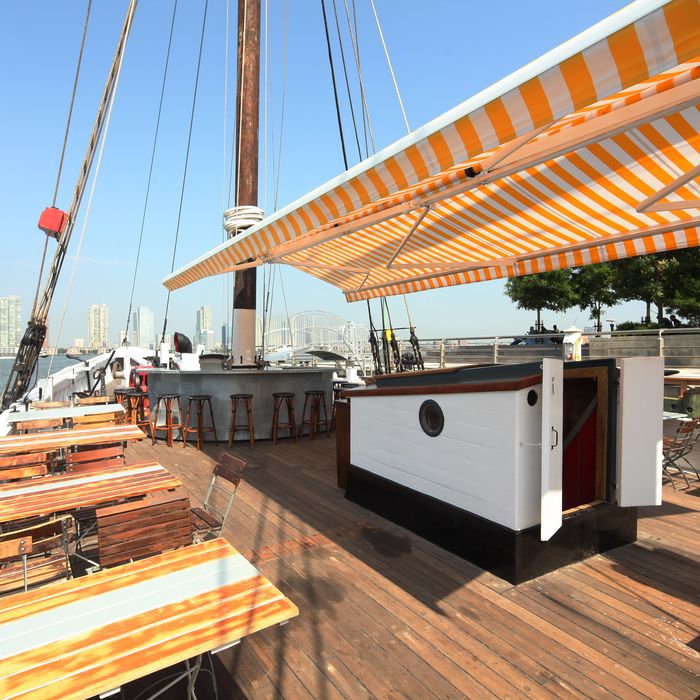 A perfect afternoon: Pull up a stool, slurp some oysters.
Photo: Melissa Hom
Eating and drinking on boats in New York City was once much more of a thing — perma-docked oyster barges like these once thronged the East River and lured in customers with tremendous all-you-can-eat deals — which makes Grand Banks, a raw bar and tiny restaurant that opens tomorrow on the historic fishing schooner Sherman Zwicker, a notch cooler than it already is, which is saying something. The project is the work of former Diner and Marlow & Sons founder Mark Firth, along with partners Miles Pincus, Alex Pincus, and Double Happiness restaurateur Adrien Gallo.
The wooden schooner, which dates to 1942 and also serves as a floating museum, is docked at Pier 25 in Tribeca, which can be reached by taking North Moore Street to the Hudson, essentially. It's the same neighborhood where Firth, who grew up in Zambia, landed his first New York City restaurant job, back in October of 1994. "I was in the city two weeks. A friend I was staying with in Brooklyn said, 'Hey, the Odeon is looking, you should go and try and get a job.'" At the restaurant, it turned out the manager who interviewed Firth was from Zambia, and the GM had a house in Italy, where Firth had just come from running a bar. He got the job, where he later met Andrew Tarlow, with whom he would go on to open a bunch of Brooklyn's new wave restaurants, starting with Diner, in 1998.
With his family, Firth left Brooklyn in 2008 for Great Barrington, Massachusetts, where he operates a restaurant, doing everything from busing tables, running food, chasing errant chipmunks, mending fences, and pouring beer. He'll be going back and forth between the establishments, at least until October when the boat is set to set sale. "We're really open to ideas about what to do with the boat in the winter," says Firth. "I really like the idea of Key West." Adventures aside, Firth adds the schooner may be dry-docked at the end of the season and that he also has tentative plans to convert the schooner to run on recycled vegetable oil in either case.
The boat has plenty of tables and two bars, one for beer and cocktails, and a smaller zinc-topped round where a cook will shuck half-shell oysters like Naked Cowboys from Long Island, Black Duck Salts from Virginia, and rarer West Coast varieties like Kusshis from the cold, less saline waters of British Columbia. Condiments include red wine mignonette, mint verjus mignonette, cucumber-coriander mignonette, and traditional cocktail sauce.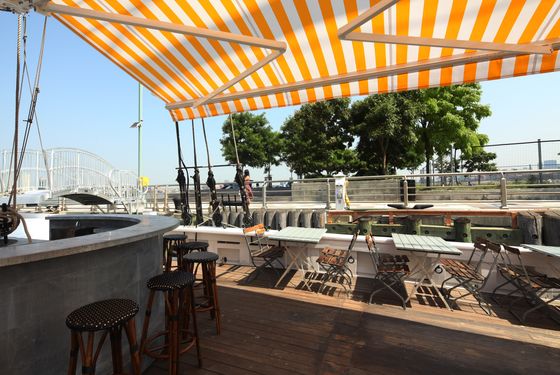 There's some shade on deck.Photo: Melissa Hom

Small plates — the galley kitchen is below deck — will include Montauk fluke crudo, with Asian pear, radishes, pancetta, and grapes; there's also a straightforward ricotta and honey dish served with herbs, figs, and olive oil. The cocktail list is still being finalized, but will include fruit- and tradewinds-influenced drinks like the Strawberry Almond Fix, which consists of Jamaican rum, almond syrup, lemon juice, and muddled fresh strawberries.
The exhibition Zwicker History is open 10 a.m. until 11 p.m. every day. Grand Banks food and bar service is available weekdays 3 p.m. to 11 p.m. to start; the partners may add lunch later. On weekends, service starts at 12 p.m.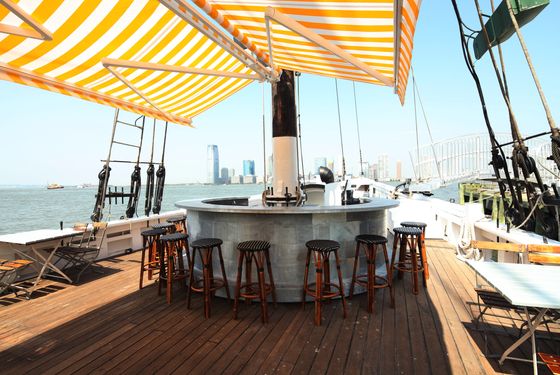 Pull up a seat at the oyster bar.Photo: Melissa Hom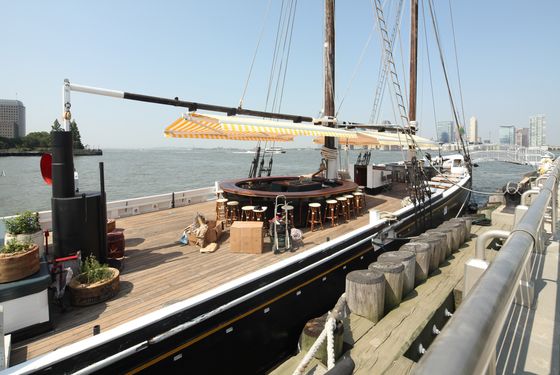 The boat's second bar devoted to cocktail service and a variety of local beer.Photo: Melissa Hom

Pier 25, West Side Highway at N. Moore St.; 212-960-3390
Related: New York's Newest Oyster Bar on a Boat Debuts Next Week