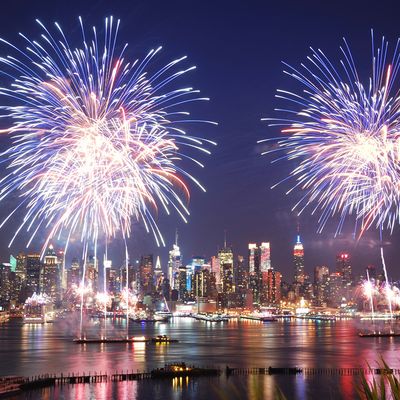 You can find these pyrotechnics back in the East River tomorrow night.
Photo: Songquan Deng/Getty Images
Grub Street is shutting things down to get an early start on the three-day holiday weekend and hit up the corner store for bootleg sparklers. By now you should be a third of the way through the Underground Gourmet's master list of 21 outdoor dining spots — new this week: floating oyster bar Grand Banks — and don't forget to save room for their megalithic 101 Best New Cheap Eats list. The glut of holiday deals around town includes patriotic lobster rolls and St. Louis spare ribs, and otherwise, there's a brand-new spot that serves huge pitchers of Planter's Punch and another that serves lobsters split and baked in a wood-fired oven. You can always grill at home, too, if you're lucky enough to have one. We'll be back Monday with cold potato salad, whatever blueberry pie we can't polish off over the weekend, and, hopefully, for the à la mode side of things, some big scoops.