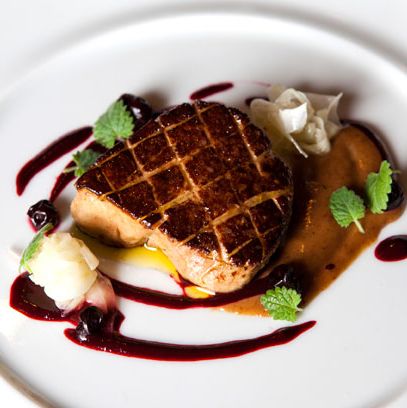 Seared foie gras at Dovetail.
Photo: Ncole Franzen
Last year, a panel of three appeals-court judges upheld an earlier refusal to overturn California's 2012 ban on the sale and production of foie gras, but now pro-gavage contingents in 13 states have devised another strategy to get aspects of the law reconsidered: let the Supreme Court go to town on the nitty-gritty of its constitutionality, particularly in terms of its implications for interstate commerce. California's law "raises an issue of extraordinary national importance," attorney Michael Tenenbaum tells McClatchy's Michael Doyle, outlining an argument that casts the ban as discriminatory toward all the states that do allow ducks and geese to be force-fed to produce foie gras.
"While some in the California Legislature may think that they have the power to tell farmers in other states what to do, at least 13 other states recognize that this unconstitutionally interferes with interstate commerce," he says. Those states filed a separate brief referencing the same rationale; a decision on whether the Supreme Court will hear the case is expected by September, but faces competition from literally thousands of other such petitions.
Supreme Court is asked to review California's ban on force-feeding birds [Modesto Bee]
Related: Federal Appeals Court Upholds California's Foie Gras Ban