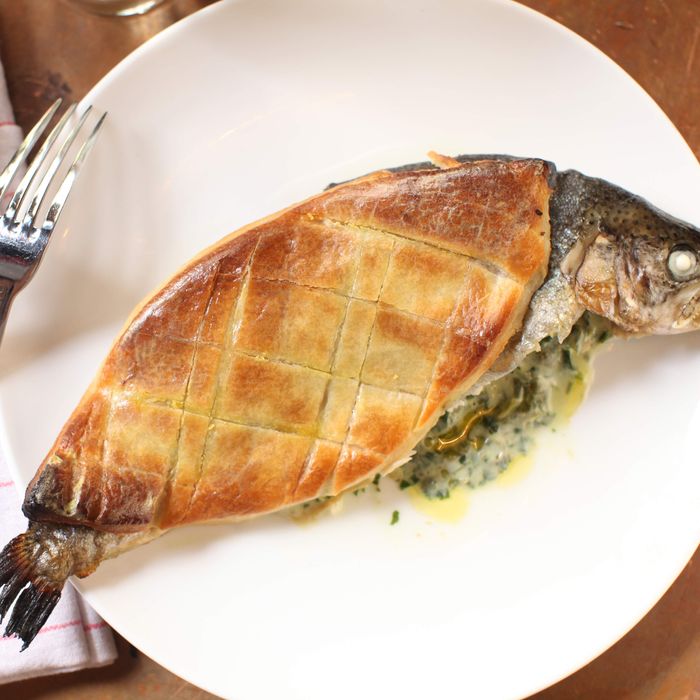 Navy's whole trout en croute feeds two.
Photo: Melissa Hom
It's pretty much guaranteed that pastry dough will make any dish better: Whether it's wrapped around a whole trout (at Navy), carrots (Narcissa), or chicken, truffles, and foie gras (the NoMad Bar), it always adds a soft, buttery layer. Sure, pâté, potpie, and Wellington-style preparations aren't exactly what you think of when it comes to summer food, but New York chefs are doing wonderful things with pastry dough right now — and proving it doesn't all have to be heavy. We've rounded up ten great dishes, straight ahead.
Bouillabaisse En Croute
Where: Claudette
Cost: $27
Soft, buttery puff pastry is the perfect dipping vehicle for a bouillabaisse that's filled with monkfish, octopus, and mussels.
Chicken Potpie
Where: The NoMad Bar
Cost: $36
The pub version of the restaurant's famed chicken for two includes a rich heaping of foie gras, which is dropped into the pie table-side — soufflé-style.
Soft Scrambled Eggs Vol-au-Vent
Where: Lafayette
Cost: $17
This is basically a deconstructed croissant egg sandwich, and it's fantastic.
Crispy Duck Pastry
Where: The Cleveland
Cost: $16
Max Sussman starts with Tunisian feuille de brick, and tops it all off with a spicy cilantro-pecan pesto.
Duck and Kumquat Terrine
Where: Forager's City Table
Cost: $13
This sweet-and-savory pâté is wrapped with classic puff pastry.
Spring-Pea Potpie
Where: The Fat Radish
Cost: $18
With mint and a bit of crème fraîche, this seasonal potpie is actually rather light and virtuous, just like the restaurant itself.
Barbajuans
Where: Chicane
Cost: $8
Apparently, this is a Monaco specialty: a pastry pocket filled with Swiss chard and soft ricotta.
Chicken Potpie
Where: Empire Diner
Cost: $23
Amanda Freitag offers a potpie as a "Green Plate" special every Wednesday — so plan accordingly.
Carrots Wellington
Where: Narcissa
Cost: $20
Critics agreed that the standout dish of Josh Fraser's menu is his vegetarian riff on beef Wellington, with blue-foot mushrooms, sunchokes, and gremolata.
Whole Trout en Croute for Two
Where: Navy
Cost: $30
This is the crown jewel of Navy's menu: It's like the fish is wearing a jacket made out of pastry dough. And it tastes as good as it looks.