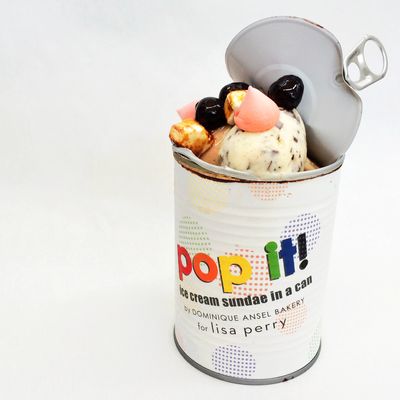 Photo: Courtesy of Dominique Ansel Bakery
The award-winning pastry chef behind deceptively ice-creamy waffles, calorific shot glasses, counterintuitive s'mores, perma-soufflés, and Cronuts has now come up with this sundae in a can. Because Dominique Ansel is an awesome person, 20 percent of the sales of this meringue-and-macerated-cherry-bedazzled thing will benefit City Harvest.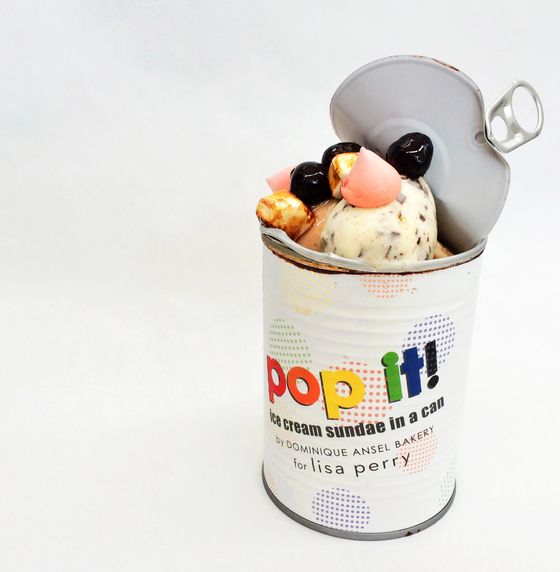 It'd be nice to keep a few of these on hand in the freezer.Photo: Courtesy of Dominique Ansel Bakery

The pastry chef is skipping town this weekend and will be in a truck parked out in front of Lisa Perry's East Hampton boutique on Saturday, August 2, starting at noon, with 500 of these, which are inspired by Warhol. (In keeping with Ansel's mash-up-cubed approach, the dessert is also based on the classic root beer float.) They're made of root-beer-flavored ice cream, with stracciatella and mascarpone semifreddo. Macerated cherries, toasted marshmallow, and Ansel's miniature meringues are the garnish. Each one costs $15 and serves two.