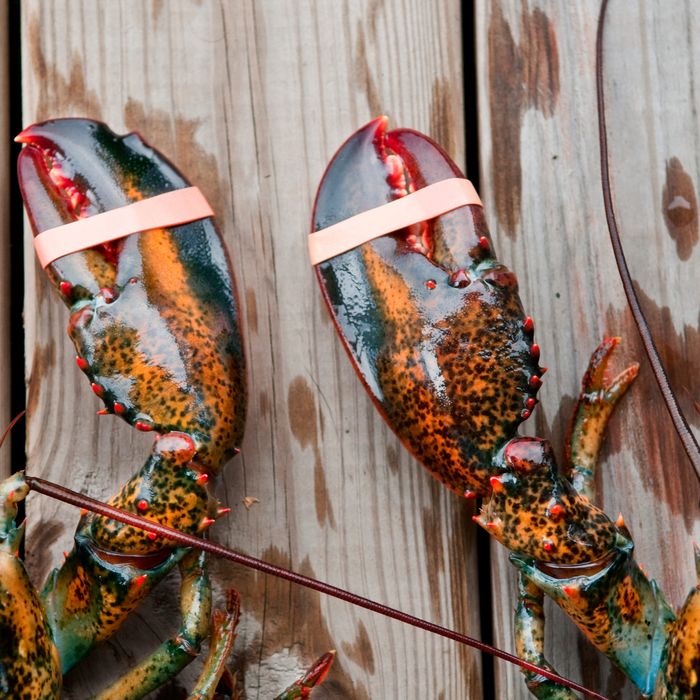 Now just add some cocoa …
Photo: Keri Oberly/Aurora Open/Corbis
The thing about Choc Lobster beer is that it sounds like a joke. But since 2012, Dogfish Head has brewed this creation each summer with whole lobsters from Maine and a healthy dose of cocoa powder. According to the official description, basil tea is in the brew, too. It sounds … strange. In truth, it is sort of strange, but Grub Street recently tried some, and it turns out it's not nearly as odd as the name, or ingredients, would make you think. In fact, it's really good.
It's like a dry stout, very dark in the glass, and lighter in body than something like Guinness. It tastes roasty and a little smoky as soon as you sip it, which gives way to some salinity at the end. It doesn't really taste like lobster. It's more like unsweetened cocoa mixed with a little seawater. (Grub Street's informal research — basically asking the person who served it — indicates this year's Choc Lobster is more balanced than it was in 2012 or 2013.) It works. In fact, the whole idea doesn't seem so strange if you're a fan of oyster stouts, which are sort of the same idea and are a lot more common. Even Guinness has apparently been touting its beer's crustacean compatibility for a long time (here's an ad from 1950).
But here's the bad news: Choc Lobster is only available on draft at Dogfish Head's brewpub in Rehoboth Beach, Delaware. It's there now, but only until this batch runs out, so unless you're already planning a trip to the Delaware coast, you probably won't be able to get it. They won't even sell growlers to go of the Choc Lobster (we asked). But the brewery has been known to use its pub for what you might call casual market testing — if something is popular enough, it can get national distribution. If people can get past the weird name — Grub bets they can — plenty of beer nerds would probably love to see this show up outside of Delaware.
Update: This is promising: Reps from Dogfish Head send word that the brewery will also be pouring Choc Lobster at this year's Great American Beer Festival in Denver.