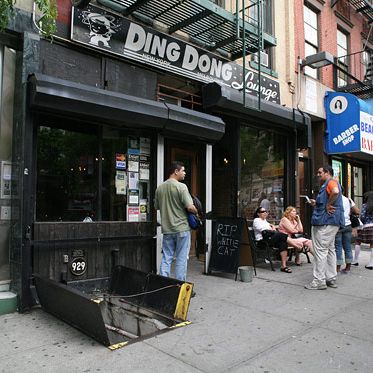 Punk's still not dead.
Photo: Shanna Ravindra
The dimly lit and grungy Ding Dong Lounge, which has for 13 years been home to several generations of punk rock show flyers plastered to the walls, a vintage Ms. Pac-Man console, and $2 happy hour cans of Genesee Cream Ale, will close on July 31. The bar, once described by Gothamist as the only dive bar "doing its best to create the kind of crappy atmosphere we desperately desire in our watering holes," is planning to relocate, and is shutting down despite a steady influx of customers. "The Ding has lost its lease. Victim to landlord greed, avarice, and douchebaggery," writes Linda Rizzo, a DJ at the space.
The bar posted a farewell message to its website:
We are sad to announce that the Ding Dong Lounge will be forced to pour its last drinks at its current location on Thursday July 31.
Like so many other unique New York City businesses, the Ding has lost its lease, despite having the highest sales in its 13 year history and being named the
Best Cheap Manhattan Dive by both the Village Voice and Gothamist .
This is not the end of the Ding, as we will be relocating & reopening in the near furture (watch this space for details). However, for right now, please come out to show some love and say goodbye to our beloved Ding Dong Lounge during our last days at the Columbus Ave & 106 St. location.
We love you all!
Here's hoping the bar's collection of vintage wooden cuckoo clocks, as well as Ding Dong's full arsenal of oddities, will live on. In the meantime, Ding Dong is urging customers to swing by. "We wanna go out in a blaze of glory," they write. "So come out tonight. Come out tomorrow."
UWS Dive Bar Ding Dong Lounge Is Closing [Gothamist]
Related: Subway Inn Will Close Next Month