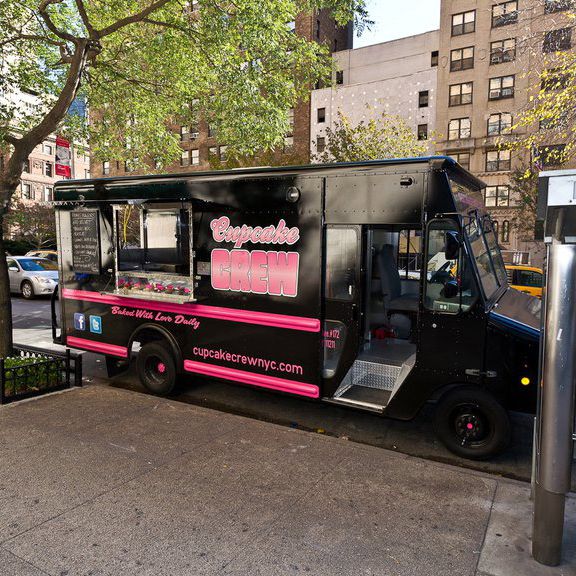 According the one tweet, the truck went out of business in April of 2013.
Photo: Cupcake Crew/Facebook
Someone who's been put in charge of the official account of Cupcake Crew, a one-time Vendy Award finalist that proclaims it "bakes with love daily" and may or may not be a defunct business, seemingly has an itchy Twitter finger and lots of hateful opinions. At least since January, the business has been firing off rantlike messages fairly regularly, and this week it delved right into the Israel-Palestine conflict, instead of sticking to topics like, say, red velvet or buttercream. "Ironically what the Zionist pigs are doing to Palestinian Arabs today is exactly what Hitler and the Nazi's did to them #FreePalestine," read one tweet, since deleted, but there are more.
A message from January relates to the murder of Menachem Stark, the Hasidic landlord.
That tweet roughly coincides with the Cupcake Crew's last official Facebook update, a New Year's post on January 1, prompting speculation that the Cupcake Crew's social media account has been commandeered by a person with horrible opinions and a dismal sense of humor.
@brooklynmike21 how does slumlord equate hating Jewish people? Just like we called it: You people nuts. No hate against anyone ever:)!— Cupcake Crew (@CupcakeCrewNYC) January 9, 2014

It's better to live 1 day as a LION then 100 years as a SHEEP! #Mussolini— Cupcake Crew (@CupcakeCrewNYC) April 24, 2014

The tweeter's colorful World Cup coverage also had a recurring theme:
USA getting ASSRAPED by Belgium #WorldCup2014 #Bloodyunderwear— Cupcake Crew (@CupcakeCrewNYC) July 1, 2014

The nightmare deepens as the Netherlands score and continue to ASSRAPE the Brazilians #WorldCup2014— Cupcake Crew (@CupcakeCrewNYC) July 12, 2014

Goal #2 Netherlands as Brasil gets it doggie style by the Dutch #WorldCup2014— Cupcake Crew (@CupcakeCrewNYC) July 12, 2014

Of course, on the scale of other recent Twitter controversies and even faux controversies, this one barely ranks, but if Cupcake Crew is planning a comeback, it may want to consider some lighter programming in order to appeal to its 4,800 followers. And even if you don't believe the once-glorious cupcake era is actually over, we can probably all agree that by flying under the banner of frosting and bite-size fun, this guy isn't helping the cause at all.
Official feed [Twitter]
Anti-Semitic NYC Cupcake Crew Tweets May Be Fraudulent [Truth Revolt]
In NYC, Cupcakes Sprinkled With Anti-Semitism [Tablet]