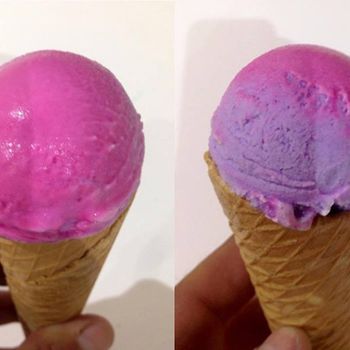 Periwinkle, pink, purple.
Photo: IceXperience/Facebook
Physicist turned wacky chef Manuel Linares has blown the internet's socks off with a color-changing ice cream made from "entirely natural ingredients." The invention was apparently his thesis for a master's degree he just picked up in the field of "Creating Artisan Ice Cream," issued by a Barcelona trade group called Asociación Empresarial Nacional de Elaboradores Artesanos y Comerciantes de Helados y Horchatas, which we're guessing is like the Ivy League of horchatas and ice cream.
Xamaleón reportedly took less than a week to invent, and its color changes as temperature shifts and the dessert comes into contact with acids on the eater's tongue. It supposedly tastes like tutti-frutti and gets a spritz of a magical accelerant Linares chooses to call "love elixir," which is probably totally unscientific. Gimmicky or not, it's become popular so fast that Linares couldn't even get his IceXperience's website up and running in time, and he's resorted to asking friends on Facebook to track down media coverage. For the moment, he's channeling all his energy into his next flavor, which he says will be packed with natural aphrodisiacs.
Physicist Creates Ice Cream That Changes Color As It's Licked [Phys.Org]