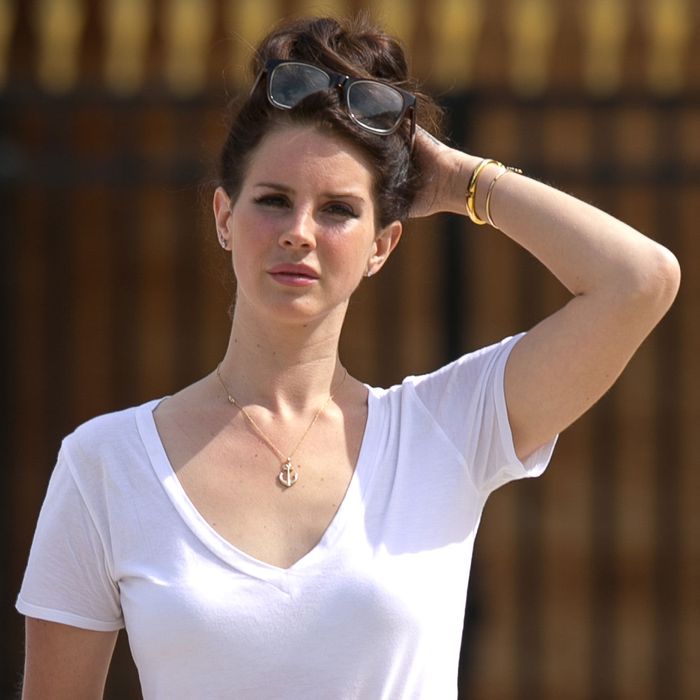 Lana Del Rey did not play video games at Caffe Dante.
Photo: Marc Piasecki/GC Images via Getty Images
In this week's installment of Celebrity Settings, breakfast really, truly seemed to be the most important meal of the day, with supermodel Chrissy Teigen feasting on eggs and tomato salad at Jack's Wife Freda and Lana Del Rey tucking into a morning meal at the newly refurbished Caffe Dante in the West Village. Kate Upton opted to grab her breakfast to-go, having a Mr. Greengenes smoothie at Juice Generation. Read all about the antioxidants and over-easy eggs, straight ahead.
Arlington Club: Former mayor Rudy Giuliani dined in the Upper East Side, surrounded by his security. [Page Six/NYP]
Beauty & Essex: Michelle Rodriguez ate dinner with a friend, sans beau Zac Efron. [amNY]
Caffe Dante: Lana Del Rey ate breakfast at the Greenwich Village old-timer. [Page Six/NYP]
Daruma-Ya: Singer-songwriter Tori Amos had oysters, tempura, and black miso cod, amongst other dishes. [Grub Street]
La Esquina: Katy Perry went for some Mexican food at the taqueria. [Page Six/NYP]
La Fondita: Out in Amagansett, Paul McCartney most likely shared a vegetarian meal with Nancy Shevell. [Page Six/NYP]
Jack's Wife Freda: Supermodel Chrissy Teigen enjoyed some eggs over cherry tomatoes. Arugula salad on the side. [Instagram]
Juice Generation: Kate Upton drank a Mr. Greengenes smoothie. [Page Six/NYP]
Sugar Factory American Brasserie: Kourtney Kardshian and Scott Disick had a candy-themed date night in the Meatpacking District. [amNY]
Tavern on the Green: George Takei dined with his husband. [Grub Street]
The Wayfarer: Kurt Russell had brunch with author James Ellroy. [Page Six/NYP]