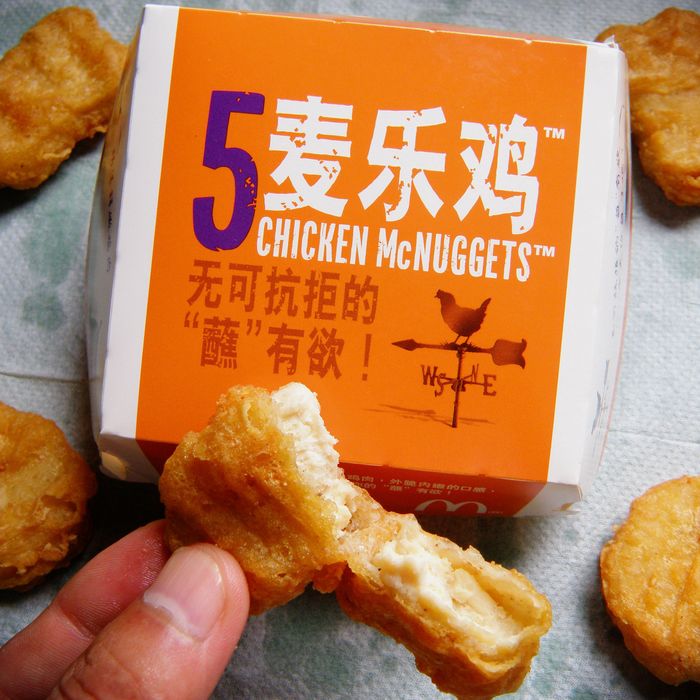 No thank you.
Photo: STR/AFP/Getty Images
Fast-food meat, like the kind that didn't go rotten a year ago, is a hot commodity at Chinese McDonald's right now, apparently enough that stores in Shanghai, Beijing, and at least four other cities have now resorted to serving entirely meatless menus consisting of just fries and drinks. "We are so sorry that we only have these choices for you," one Beijing location said in a posted message, while some others are burning through their Filet-o-Fish reserves until new supplies arrive from OSI Group, the Illinois-based owner of Husi Food Co. Ltd. that McDonald's has opted sworn to stand by while it finishes up overhaul its food-safety protocols.
The complete overhaul may take a while: Not surprisingly, OSI announced over the weekend it has recalled all meat distributed bu Husi Food. China's latest food safety scandal began last week after an investigation revealed a seemingly regular practice of recycling old meat supplies with newer shipments while workers, probably figuring it couldn't possibly make things any worse, also sometimes scraped meat off the floor to add to the mix, prompting comparisons to Upton Sinclair's The Jungle. Locations of KFC, Pizza Hut, Burger King, Starbucks in China, and even Ikea locations, plus McDonald's in Japan and Hong Kong have all been affected.
Some Chinese McDonald's Are Only Selling Fries and Drinks Due to a Meat Recall [Quartz]
Scandal-Hit Chinese Food Firm Withdrawing All Products, U.S. Parent Says [Reuters]
Related: China's Expired-Meat Scandal Now Includes Burger King and Starbucks