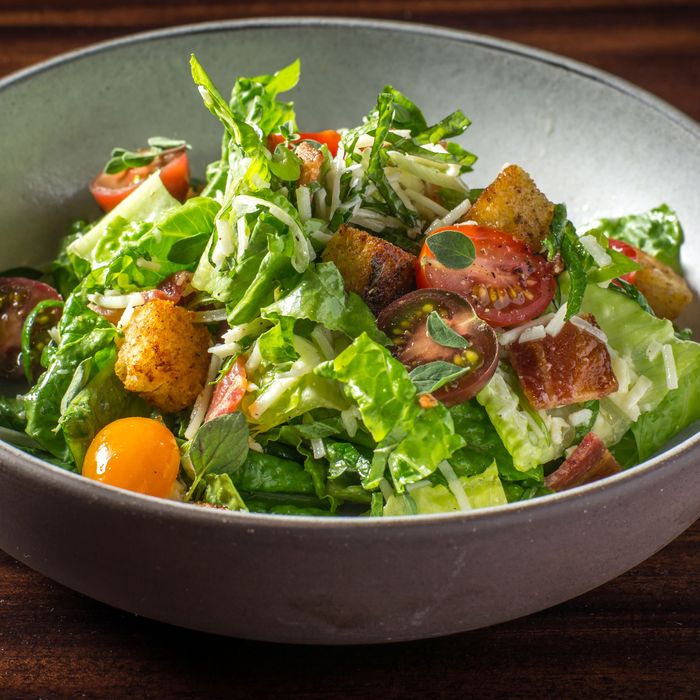 Almost certainly Seattle's most famous salad.
Photo: Paul Wagtouicz
Among America's name-brand salads — the Cobb, the Waldorf — the Canlis Salad occupies its own unique place. On the menu at Seattle's Canlis since it opened in 1950, the mixture of romaine, bacon, tomatoes, croutons, herbs and grated Romano remains a signature dish at the restaurant, now under the control of third-generation owners Mark and Brian Canlis. The salad's defining feature: a lemony dressing and a healthy dose of fresh oregano and mint, lending a distinctive, surprising, touch. It's simple, and it is beloved (Sam Sifton once called it "a revelation"). And now, finally, the Canlis Salad will be served in New York City, thanks to the team at the Nomad Bar.
Here's why: Brian Canlis himself has been semi-covertly working in the restaurant's dining room since it opened last month, a move that came about when he mentioned to Will Guidara — a friend since college — that he was thinking of taking something like a sabbatical from his family's restaurant. It was Guidara who suggested Canlis take that time to come to New York and help open the bar, which he did. "We're calling it a friendternship," Canlis says of the temporary gig.
Now, though, the friendternship is coming to an end and so, to send Canlis off, Daniel Humm and executive chef James Kent are adding the famed salad to the Nomad Bar's menu for two weeks, starting Monday, July 21. "For a chef like Daniel Humm to put someone else's food on his menu is a huge honor," Canlis notes.
The Nomad Bar's version, which runs $14, won't stray from the original in the slightest (though it will be assembled in the kitchen, whereas it's a tableside presentation in Seattle). And Canlis, who grew up making the salad and puts together at least 20 versions a night when he's working the floor at his restaurant, has been deeply involved in the R&D;: perfecting the dimensions and flavor of the croutons, advising on the proper size for the grated Romano cheese, and offering guidance on the appropriate way to cut the romaine.
"I've been craving that salad for three months," Canlis says. "Now I finally get to eat it again."
Related: The Nomad Bar Serves the World's Most Luxurious Chicken Pot Pie