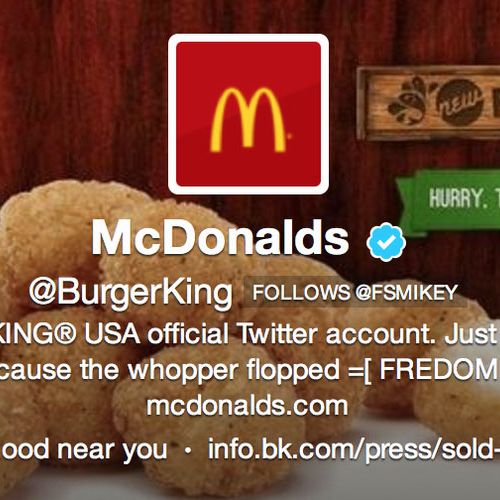 The hack claimed McDonald's had purchased BK.
Photo: Twitter
The Gucci Mane-loving computer user who defaced Burger King's Twitter account last year, claiming that the Whopper-maker had been sold to McDonald's and its employees did things like snort painkillers in the bathroom, pleaded guilty to a more widespread hacking last month. Ars Technica says the 25-year-old New Bedford, Massachusetts, man gained access to Zendesk, a customer support platform, in order to "download millions of records belonging to Twitter," before targeting Jeep and another company. While Burger King wasn't identified as such in U.S. District Court documents, charging papers refer to changes made to the fast-food giant's Twitter feed over the course of a few bizarre hours in February of 2013.
Federal prosecutors say that the suspect, Cameron Lacroix, is one of a group of hackers who gained access to Paris Hilton's T-Mobile Sidekick in 2005. Several of the socialite's photos and messages were released to the public; Lacroix, who served 11 months at a juvenile detention center, was not identified at the time because he was a teenager.
Feds unmask mystery hacker who "hamburgled" Burger King Twitter account [Ars Technica]
Related: Burger King Twitter Account Hacked by Apparent Big Mac-Loving Gucci Mane Fan