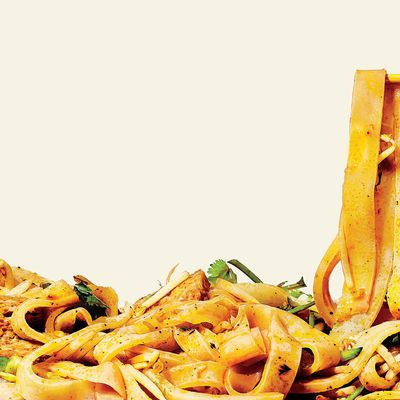 Liangpi cold-skin noodles at Xi'an Famous Foods.
Photo: Bobby Doherty/New York Magazine
For obsessives, hot ramen knows no season. For the rest, there's a cold Asian noodle dish to refresh and fortify in the summer heat. Here, a roundup of some of the city's slipperiest, iciest strands, from Vietnamese bún to Korean kimchee noodle soup—all ranked on a scale of one to five, with five being the frostiest.
LiangPi Cold-Skin Noodles at Xi'an Famous Foods
Various locations; xianfoods.com; $4.50 to $5.
Noodle: Chewy, hand-cut wheat-flour noodles in the style of the Chinese province of Shaanxi.
Toppings: Cucumbers; bean sprouts; cilantro; a few rectangles of spongy wheat gluten, all tossed in a lightly spicy, lightly sour, wholly delicious house sauce.
Chill factor: 3
Light sauce; chilly, dense noodles (that make up for the cramped, sometimes hot restaurant spaces).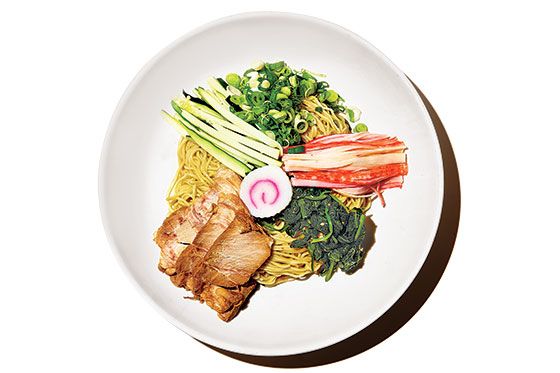 Hiyashi Chuuka at Ramen.Co.
Photo: Bobby Doherty/New York Magazine

Hiyashi Chuuka at Ramen.Co
100 Maiden Ln., entrance on Pearl St.; 646-490-8456; $13.
Noodle: Ramen-burger creator turned ramen-ya proprietor Keizo Shimamoto sources his featured ingredient from New Jersey's Sun Noodle.
Toppings: Cucumbers, strings of crabmeat, pork belly, fish cakes, and
a pork-stock-based sauce.
Chill factor: 3
Heavy on accompaniments, and without steaming broth.
Kimchee-Mari Guksu at Parksanbal Babs
41-10 162nd St., Murray Hill, Queens; 718-840-8467; $9.
Noodle: Long Korean wheat-flour noodles.
Setup: Ice-cube-chilled kimchee broth with cucumbers, greens; sides of raw green-chile peppers, gochujang chile-bean paste, and rolled-egg omelette.
Chill factor: 4
Bright and sharp flavor; not quite sweat-inducingly spicy, so rely on the ice to cool you.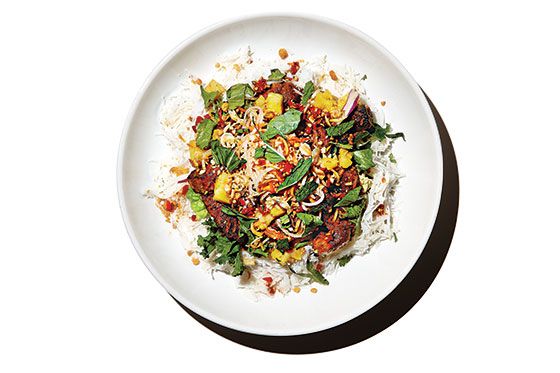 Chilled Rice Noodles at Viên.
Photo: Bobby Doherty/New York Magazine
Chilled Rice Noodles at Viên
220 Varick St., at Downing St.; 212-255-8808; $9.50.
Noodle: Vietnamese rice-flour bún.
Toppings: The restaurant allows you to customize: Try slow-cooked pork; peanut sauce; crushed peanuts; seasonal slaw and fresh fruit like pineapple; crispy shallots; and tiny hits of Thai bird's-eye chiles—extra-spicy but worth the burn.
Chill factor: 4
Noodles are soft and cool; chiles are super-hot; slaw is cold and fresh.
Cold Ramen at Mokbar
Chelsea Market, 75 Ninth Ave., nr. 15th St.; 646-964-5963; $13.
Noodle: Korean-American chef Esther Choi employs thin, delicate Sun Noodle ramen.
Toppings: Seasonal vegetables like cucumbers and bean sprouts; mushrooms; housemade kimchee; spicy sauce of sesame oil, chile paste, and garlic; poached egg; crispy potato.
Chill factor: 3
Since it's brothless, the focus is on springy noodles; fresh vegetables add cool brightness.
Ume Soba at Kokage
125 E. 39th St., nr. Lexington Ave.; 212-228-4873; $20.
Noodle: Housemade Japanese soba (buckwheat).
Setup: A cool broth with ume (cured plum) and dried-kelp and bonito flakes; two pieces of saba (mackerel) sushi on the side.
Chill factor: 4
Light; healthful, not oily; chilled but not too cold for the cool, quiet room.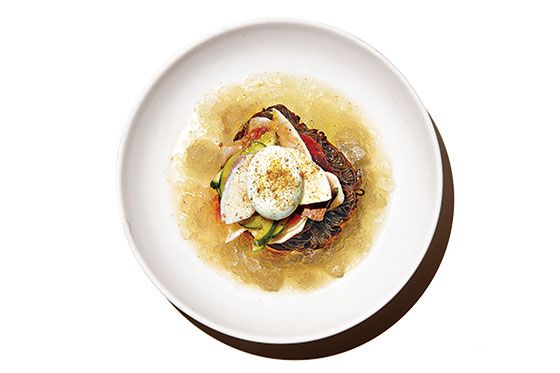 Bibim Neng-Myun at Han Joo.
Photo: Bobby Doherty/New York Magazine
Bibim Neng-Myun at Han Joo
12 St. Marks Pl., nr. Third Ave.; 646-559-8683; and 41-06 149th Pl., Murray Hill, Queens; 718-359-6888; $14.
Noodle: Long, exhaustingly chewy arrowroot-starch noodles imported
from Korea.
Accompaniments: An icy vegetable-and-seaweed broth; spicy dadaegi sauce (which uses pear, onion, chile, and garlic, among other ingredients); pickled cucumbers and daikon with Korean peppers; a boiled egg; and slices of beef brisket.
Chill factor: 5
The broth isn't unlike a savory 7-Eleven slushie.
Kamo Seiro Soba at Daruma-ya
428 Greenwich St., nr. Laight St.; 212-274-0428; $25.
Noodle: Handfuls of handmade Japanese soba from the soba master Shuichi Kotani, who's taught at the Culinary Institute of America.
Setup: Noodles on a bamboo tray; a separate warm, salty broth flavored with mushrooms, scallion bulb, and a few pieces of Hudson Valley duck; plus a dab of yuzu-black pepper sauce on the side, all meant to be mixed.
Chill factor: 3
Broth is warm, but the noodles bring the temperature down.
Spicy Whelk Salad With Buckwheat Noodles at Danji
346 W. 52nd St., nr. Eighth Ave.; 212-586-2880; $12.
Noodle: A bird's nest of Korean-style buckwheat noodles.
Setup: A salad in a similar bird's-nest shape sits adjacent to the light gochujang-chile-sauce-smothered noodles; it combines whelks with watercress, onion, and micro-celery.
Chill factor: 4
The freshest greens of the group are crunchy, sharp, and spicy.
Cold-Dip Soba at Cocoron
37 Kenmare St., nr. Elizabeth St.; 212-966-0800; and 61 Delancey St., nr. Allen St.;
212-925-5220; from $13.
Noodle: Japanese soba, often made right at the counter.
Setup: A bamboo-tray-lined bowl holds noodles next to a warm, bonito-broth-based dipping sauce; options include one with chicken, slices of burdock root, and scallions.
Chill factor: 2
Delicious—but with a warm dip.
Cold Sesame Ramen at Real Kung Fu Little Steamed Buns Ramen
811 Eighth Ave., nr. 49th St.; 917-388-2555; from $8.75.
Noodle: Chewy hand-stretched la mian, the original Chinese ramen.
Accompaniments: Tomatoes, baby bok choy, and cilantro; a side of light, soupy sesame sauce; a small drop of chile paste (plus optional add-ons like beef, shrimp, chicken, or roast pork).
Chill factor: 4
Toppings like raw tomatoes are bright; sesame sauce tastes clean and cool.
*This article appears in the July 14, 2014 issue of New York Magazine.