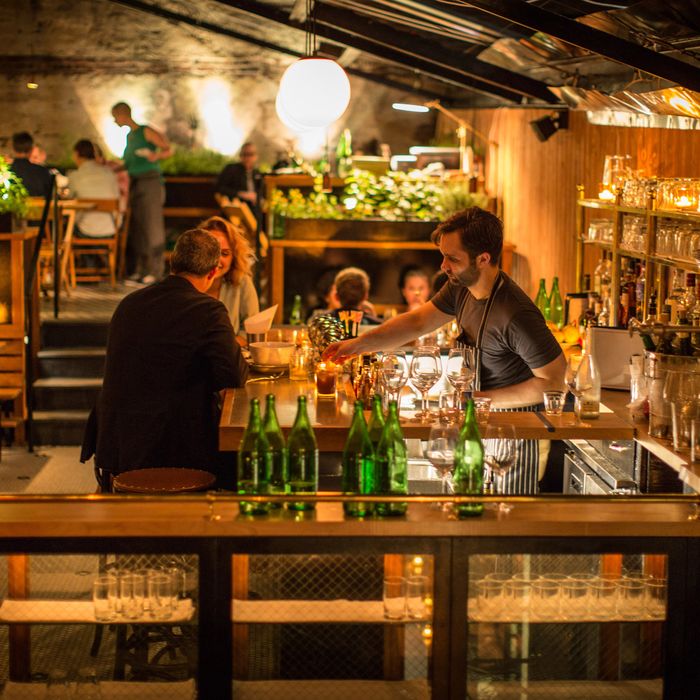 Montmartre will air the World Cup game during its party, too.
Photo: Henry Hargreaves
The city's Francophile population is anxiously anticipating La Fête Nationale, or Bastille Day, which will happen on July 14 (that's this coming Monday). But restaurants around the city are spending the next few days leading up to it as a time to break out the Champagne and pentanque, too. Here are 14 spots — including Montmartre, General Assembly, and Bar Tabac — that will be celebrating with a variety of parties and food specials.
Montmartre
When: July 13, 2 to 9 p.m.
What: Dress in your best red, white, and blue attire, and head to Chelsea for a party in the restaurant's back garden. There's an open bar, live jazz music, entertainers, and performances of different sorts, and French fare like tarte flambé with summer squash.
Price: $89, tickets here
Canelé by Céline
When: Until July 14, Monday to Friday, 8 a.m. to 7 p.m.; Saturday and Sunday, 9 a.m. to 5:30 p.m.
What: The French boutique bakery has three new canelé flavors, blueberry, raspberry, and white chocolate, meant to represent the French Flag. They'll be offered this weekend and through Monday, and there will also be in-store festivities, like music and free pastries, and complimentary Champagne and lemonade from July 12 to 14, from 5 to 7 p.m.
Price: $18 for 12 canelés
The Fourth
When: July 14
What: The Union Square restaurant has both a dessert and drink special: A beignet trio is available all day, and the three large spheres of fried dough come with raspberry and chocolate sauces and vanilla pastry cream. You can also enjoy the Açaí Kir cocktail with Champagne and açaí berry purée, perhaps on the newly opened outdoor terrace.
Price: $10 each
Reserve Cut
When: July 14, 11:30 a.m. to 2:30 pm.; 5:30 to 10:30 p.m.
What: The kosher, French-inspired steakhouse is offering a complimentary glass of Champagne to its lunch and dinner guests. Of course, there are also classic dishes like steak au poivre and côte de veau.
Price: à la carte
Eight Turn Crêpe
When: July 14, 11 a.m. to 11 p.m.
What: The Soho crêperie is celebrating Bastille Day with a special mixed berry parfait crêpe, made with strawberries, blueberries, raspberries, granola, whipped yogurt, and custard cream.
Price: $7.08
Benoit
When: July 14, 11:45 a.m. to 3 p.m.; 5:30 to 11 p.m.
What: Alain Ducasse's midtown restaurant is serving surf and turf skewers, blueberry beignets, and a special rose cocktail, in addition to its regular menu, in honor of France's Independence Day. People celebrating at home can grab a raspberry tart with verbena cream to go.
Price: à la carte
La Maison Du Croque Monsieur
When: July 14 to 18, 7:30 a.m. to 9 p.m.
What: Celebrate in (cheap) style with any croque sandwich and a glass of wine for $10.
Price: $10
1200 Miles
When: July 14, 5 to 11 p.m.
What: Head to Flatiron for French- and Moroccan-inspired food and 50 percent off bottles of French wine.
Price: à la carte
Louro
When: July 14, 7 to 10 p.m.
What: The West Village restaurant will cook a themed Bastille Day dinner. The menu of classics includes beef Wellington with whipped potatoes, haricot verts, and bouillabaisse. Guests will receive a complimentary French 75 cocktail and gougères, but the dinner is BYO wine and beer.
Price: $65
Bar Tabac
When: July 13, noon to 8 p.m.
What: At the annual, whole-block pétanque tournament, enjoy beer, swing bands, and snacks and French fare from the many food vendors.
Price: varies

General Assembly
When: July 14, 5:30 to 10 p.m.
What: The new-ish restaurant is re-creating an Escoffier menu, inspired by Paris in 1900. Dishes included pommes nouvelles (duck fat-fried potatoes) and asperges sauce mousseline (asparagus with crème fraîche).
Price: $65; $15 extra for Champagne tasting
French Institute Alliance Française
When: July 13, 12:30 to 2 p.m.; 3 to 4:30 p.m.
What: In the Le Skyroom, sample 25 French wines alongside sommeliers like Arnaud Tronche, the general manager and wine director of Racines. Also enjoy hors d'oeuvres from two Michelin-starred chef Raphael François of Le Cirque.
Price: $95 for FIAF members; $115 for non-members, tickets here
Brasserie Beaumarchais
When: July 13, brunch from noon to 7 p.m.; rally from 3 to 7 p.m.
What: Celebrate at the Bastille Day Citroen Rally Brunch. The restaurant's block is the final stopping point for the New York Citroen & Velosolex Club's 15th Annual Bastille Day Rally and the entire block will be closed off, so the Citroen cars can park there. There are 15-some vendors, like Balthazar, offering baguettes, crêpes, and more. The restaurant is serving its regular brunch menu, but the event is free.
Price: brunch à la carte
Cercle Rogue
When: July 11, noon to 9 p.m.
What: Head to Tribeca for an outdoor street festival with a live band, 12 pentanque courts, and a French street-food stand with the likes of a merguez sandwich with lamb sausage, fries, and harissa on a baguette. A limited menu will also be available inside the restaurant after 5 p.m.
Price: à la carte