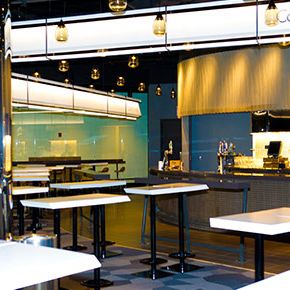 The Calvin Klein Courtside Club.
Photo: Courtesy of Barclays Center
Five Barclays food-service workers have filed a lawsuit claiming that employees at the venue's restaurants inflicted discrimination, name-calling, and other abuse, including banishing them at posh venues like the Calvin Klein Courtside Club and the Jay Z-owned 40/40 Club "to ensure that they remain out of the sight of customers." Anthony Peterkin, a cook who's blind in one eye, says two managers gave him names like "Cyclops" and "one-eyed guy," while Erick Silverman, who has both cerebral palsy and a disorder called rhinophyma, claims in the $5 million suit that a manager mocked his hand tremors and insulted him in other, even more tasteless ways.
According to the suit, management at the venues, which are operated by concessionaire Levy Restaurants, also used racial slurs. Words like "black monkey" were allegedly deployed on a regular basis; one employee bragged that a black manager was hired "for show"; and management reportedly compared a black employee to Beetlejuice, a character from "Howard Stern" who is a dwarf and has microcephaly.
The suit further claims that Levy Restaurants actively worked to keep workers with disabilities, specifically Peterkin and Silverman, hidden from customers. "It's horrendously cruel and humiliating," their attorney tells the Daily News. "There's nothing about an enlarged nose or having been blinded that interferes with their ability to do their job." Yesterday, a Barclays Center spokesperson told the Daily News they hadn't seen the suit, but take "allegations of this kind very seriously."
Barclays Center Hit with $5M Suit Claiming Discrimination Against Disabled [NYDN]
Barclays Center/Levy Restaurants Hit with Suit Charging Discrimination on Disability, Race; Supervisors Said to Use Vicious Slurs, Pursue Retaliation [Atlantic Yards Report]