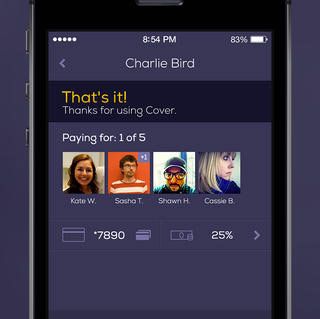 Fully automated. What could go wrong?
Photo: Courtesy of Apple
The tech world is always "improving" dining transactions, sometimes for the better , sometimes probably not. Sometimes it's tough to tell early on, and in the case of Cover, it's way too early. The start-up is currently partnered with Alder, Luksus, Carbone, and 81 other NYC restaurants, and just took in a cool $5.5 million in series A funding from investors, including Resy co-founder Ben Leventhal.
The app is basically an Uber-like dine-and-dash, but for people who actually want to pay but don't want to wait around for all those post-meal formalities: Users tell the waiter that's how they'll be paying, create "a table" on the app, and just walk out at the end; Cover splits the bill and tips the server. No excess wait, no back-of-the-napkin math — it's worth noting, however, there's also no clue what went on your card until you're emailed the receipt. The funding should help Cover work out a few kinks, such as restaurants' wireless beacons not working, as well as double its staff and help it to court more restaurants to sign on. Hitting a critical mass will be vital, because a stampede of competitors is crowding the field, meaning that going forward, the biggest problem on the customer side of things may be for them to find a restaurant for the one app they use.
Cover, an Uber-Style Restaurant Payments App, Is Served With $5.5 Million [WSJ]
Our Series A [Cover]