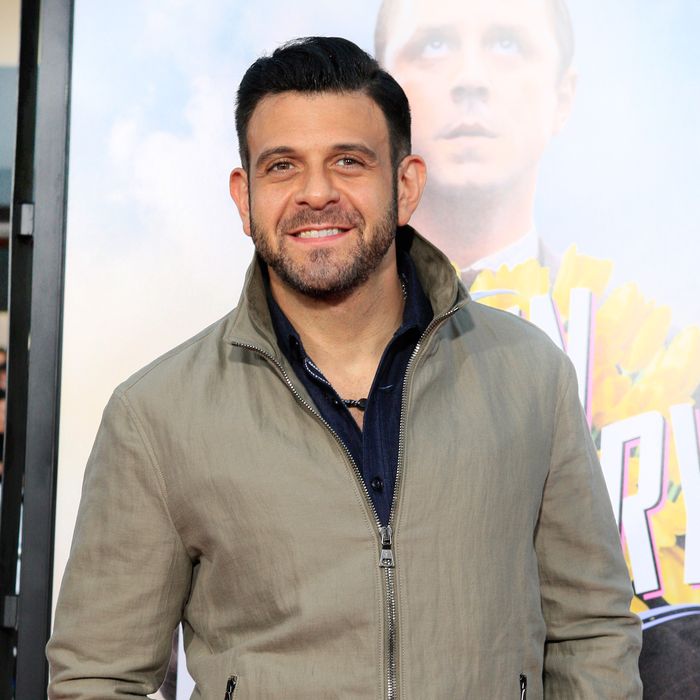 Richman, whose prior apologies were deleted from Twitter and Instagram, has reapologized.
Photo: Nina Prommer/PatrickMcMullan.com
Less than two weeks after the former Man v. Food host Adam Richman cursed at Instagram users who took issue with his use of an offensive hashtag and crude instruction to "grab a razor blade & draw a bath," Travel Channel has, perhaps predictably, pulled Richman's forthcoming show Man Finds Food from its upcoming lineup. The network has not confirmed that the show's premiere, which was scheduled for tomorrow, was canceled because of Richman's social-media behavior, but it confirmed in a statement that the debut has been postponed.
The media personality's trouble began with a selfie posted to Instagram in mid-June, accompanied by the caption: "Had ordered this suit from a Saville Row [sic] tailor over a year ago. Think I'm gonna need to take it in a little … #Victory #EyesOnThePrize #AnythingIsPossible #fitness #transformation #thinspiration."
The hashtag #thinspiration has been co-opted by pro-bulimia and pro-anorexia groups, something Richman apparently did not know. Users called him out for this, some more aggressively than others, and Richman responded that he was the victim of "trolling." In a series of replies, Richman called one user a "cunt" and suggested that another user should commit suicide. "Seriously - grab a razor blade & draw a bath. I doubt anyone will miss you," he wrote to one user, then went after another.
"oh eat a bag of shit dummy. No apology is coming. If it inspires someone to attain a healthier, thinner body - then that's what it was meant to do. Only fuckup it seems was your Dad's choice to go without a condom."
After several dozen messages, Richman deleted his posts and issued apologies on Instagram and Twitter, which were also deleted. This morning, perhaps channeling Paula Deen, he released a statement to Good Morning America: "I've long struggled with my body image and have worked very hard to achieve a healthy weight. I'm incredibly sorry to everyone I've hurt."

Adam Richman's new show pulled from Travel Channel in wake of crude Instagram rant [Washington Post]
Related: Adam Richman Probably Shouldn't Have Cursed at Instagram Users or Suggested They Commit Suicide