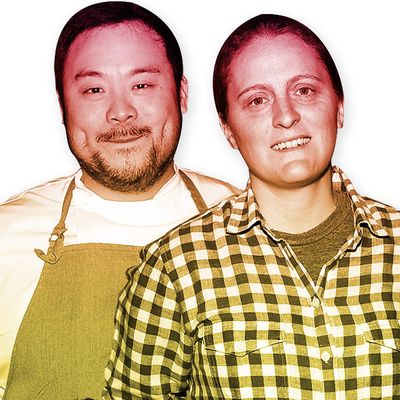 Icons.
Photo: Getty Images
Like most haughty big-city critics that year, I didn't review Momofuku Noodle Bar when it opened in August 2004. When my colleagues at the Underground Gourmet got around to sampling the ramen and the famous steamed pork buns at the little East Village restaurant, they simply referred to David Chang as "a veteran of Craft." When I did finally make it to the spare establishment on First Avenue, with its jerry-rigged iPod sound system and its haphazard, white-painted décor, the steamed-bun dish I liked best was the one stuffed with crispy-skinned chicken, instead of pork. That same year, the first time I tried to fight my way into April Bloomfield and Ken Friedman's raucously crowded little West Village gastropub called the Spotted Pig, I was told the wait for a stool at the bar would be an hour or two, so I turned around and left.
As any devoted chowhound can tell you, 2014 marks a year of impressive anniversaries in the New York dining scene. In the spring of 2004, those great West Coast chefs, Thomas Keller and Masa Takayama, opened Per Se and Masa, on the same floor of the glittering new Time Warner Center. That was also the year that Dan Barber opened the great farm-to-table temple, Blue Hill at Stone Barns, on the old Rockefeller estate just outside Tarrytown, the year that the nouveau speakeasy bar Freeman's opened on the Lower East Side, and the year that Danny Meyer decided to open a small burger joint in Madison Square Park devoted to the comfort foods of his youth, which he called Shake Shack.
But none of these landmark establishments ended up being quite as influential, or as subtly subversive, as Chang's original Noodle Bar or Bloomfield and Friedman's snug, unassuming little pub. Thanks to them, restaurants have tended to grow smaller over the last decade, and louder, too. Restaurant food has become heartier and heavier, instead of lighter and more delicate. Bloomfield and Chang weren't the first to popularize bar dining (that would be Tom Colicchio at the original Craftbar), or umami-rich, nose-to-tail cooking (Fergus Henderson, Mario Batali). But they were the first to break down the age-old barriers between the front and the back of the house and to officially introduce the kitchen culture (tattoos, hip-hop in the dining room, pork belly) that had been hiding until then, in the shadows, to a new generation of eaters.
Chang and Bloomfield weren't alone in creating this glorious, Bastille Day moment, of course. Anthony Bourdain had something to do with it, along with Batali, Colicchio, and many others. But unlike the other, more established cooks of that time, Bloomfield and Chang were the first superstars to come along at more or less the precise time when the old mold for "superstar" chefs was being blown apart. They weren't part of the well-worn pipeline, which used to snap up promising cooks from Michelin-approved kitchens in Paris and Lyon, and shuffle them to glory through the grand old restaurants of "gourmet" New York. They were outsiders, working on the margins, obsessing over ingredients the way serious chefs do, but cooking the kind of food that people in professional kitchens, like themselves, liked to eat. Their restaurants anticipated the simpler style and pared-down aesthetic of the new post-gourmet world, and they had the good fortune to hit the big time when the interest in food, and the culture of restaurants, was exploding, thanks to that clamorous, ever-expanding megaphone called the internet.
Part of their success was timing, then, and part of it, as always, was the talent to take advantage of that timing. Over the years, Chang and the Bloomfield-Friedman team have turned out to be shrewd empire builders, and they've had a knack for radical innovation (Chang started his own food magazine, after all) and for snatching different ideas from the ether and making them their own. No-reservation restaurants weren't an official trend until they came along, and neither were impenetrable, newfangled online-reservation systems. American gastropubs weren't a trend, either, or gourmet hipster omakase dining bars, based on the old Japanese model, or steamed Cantonese buns, or large-format whole-hog dinners, or lavish, pre-ordered fried-chicken dinners served with all the trimmings, like some strange fusion version of Peking Duck.
Before the Age of Bloomfield and Chang, most ambitious chefs aspired to run grand continental-style kitchens, before cashing out in far-off places like Hong Kong or Vegas (thanks to Bloomfield and Chang, those trendy far-off places are now San Francisco, Sydney, and Toronto). After them, talented young cooks felt empowered to follow their own tastes and instincts, rather than endlessly repeat the lessons of the grand French masters. Thanks to Bloomfield and Chang, a generation of highly trained cooks (Rich Torrisi and Mario Carbone in New York, Naomi Pomeroy and Andy Ricker in Portland, Danny Bowien in California and New York, Roy Choi in L.A., the list goes on and on) began to return, in droves, to their comfort-food roots. Their restaurants tended to be intimate places, with a decent bar and lists of specials scrawled on the walls. When they expanded, they did so, in the beginning, in a small, local way, and their restaurants usually featured one comfortable old dish, done with impeccable ingredients and a slight modern twist (the veal parm at Carbone, Ricker's Vietnamese chicken wings, Sean Brock's shrimp and grits at Husk, Tony Maws's pub burger at Craigie on Main) that makes you want to come back again and again.
Will these two unlikely star chefs have the same kind of impact over the next decade? Who knows? It's fashionable to compare the raucous, post-gourmet cooking culture that they helped create to the culture of rock and roll, and like most endlessly repeated observations, there's more than a kernel of truth to that. But even the most influential cooks, like influential musicians, tend to be truly in tune with their times for only a few short years. Eventually, making food, like making music, becomes less about art than business, and eventually tastes change, and the times move on. Vegetables are all the rage in what passes for fashionable New York dining circles these days. Ambitious young chefs are becoming more obsessed with making global 50-best lists than whole-hog dinners or new ramen creations, and with the economy recovering, big money is slowly seeping back into upper echelons of the "gourmet" restaurant game.
But when the new Umami Burger outlet opens down the street from you (or the new Ivan Ramen outlet, or the new Roy Choi taco joint), you can say a little prayer of thanks (or not) to Chang, Bloomfield, and her partner Friedman. You can thank them for your strange, abiding obsession with brown liquor and craft beers, and the hamburger, and that fragrant vat of kimchee your Park Slope neighbor has kept buried for months in her backyard. You can thank them for that road trip you're planning with your suddenly food-mad 10-year-old daughter, down through the ancient Foodways of Virginia and Tennessee to find the perfectly cured country ham. You can thank them for that weirdly excellent gastropub your friend stumbled on in the wilds of Ojai, California, or Rockland, Maine, and you can thank them for a food world that's more democratic, more accessible, and generally a whole lot more fun than the one these two young cooks, coming from different worlds, stumbled into, ten long years ago, in the summer of 2004.