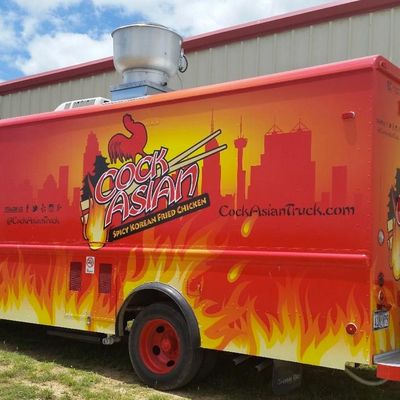 "All signature recipes will also be included in the sale," so there's that.
Photo: eBay
If you want an Asian-fusion food truck with a "very solid social media following," and you're totally okay with having even the most basic workplace internet filters block your business's URL, then head on over to eBay and get this infamous, triple-entendre'd CockAsian Spicy Korean Fried Chicken truck. It's two months young so everything's "new or gently used," and business is so booming it's practically running owner Candie Yoder ragged.
"The joke was that I was a Caucasian person doing an Asian food truck without a background of being Asian, I guess," was how Yonder described her creative naming process a few months ago. After two months of controversy and a quick appearance on SNL's "Weekend Update," however, she says the truck, which serves Korean fried chicken, was just an "experiment" that's attracted "far more bookings than we could fill," so it's time to let it go. The eBay listing doesn't make too much of the name that's ruffled more than a few feathers and even landed Yonder in a spat with a San Antonio venue's organizers who forgot to turn their Google Image SafeSearch on. All of this could be yours, and if it sounds like too much of a headache, just remember you can always change the truck's name — the truck comes with CockAsian's "signature recipes," either way.
San Antonio's controversial 'CockAsian' food truck for sale on eBay [My San Antonio]