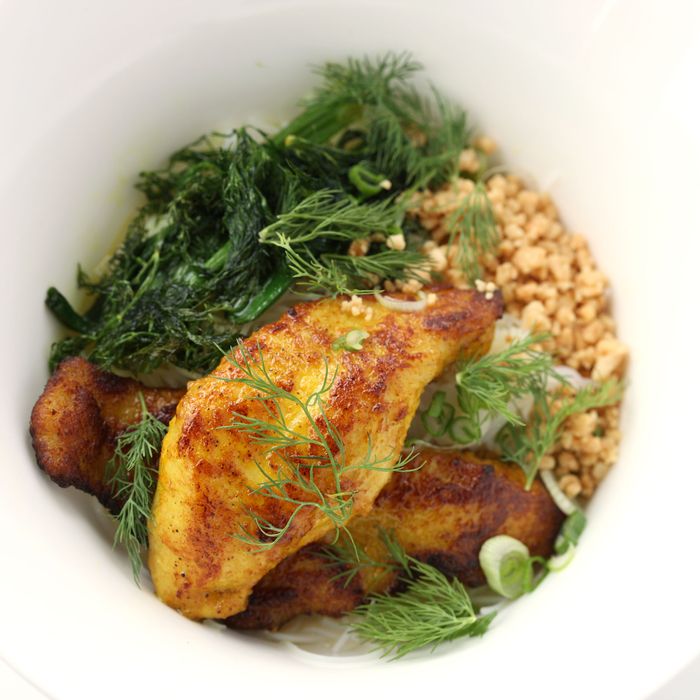 The Cha Ca catfish is moving a few doors up Smith Street.
Photo: Hannah Whitaker/New York Magazine
Restaurateurs Kerry Diamond and Rob Newton are switching things around on Smith Street in Brooklyn: Nightingale 9, their year-old Vietnamese restaurant that makes ample use of Southern ingredients like Virginia country ham and Kentucky soy sauce, will soon relocate to the space that's currently home to Seersucker, which is closing after four years of business. The current Nightingale 9 space at 345 Smith Street will reopen as a new place called Wilma Jean, Eater says, which will be more casual than Seersucker but will base its menu on a similar set of Southern influences. It will debut the week after next.
In preparation, Nightingale 9 will close after the weekend of July 4 and Seersucker will close after brunch service on Sunday. Smith Canteen, the restaurateurs' establishment located between these two on Smith Street, will stay open during the transitions, so at least you'll have somewhere to sit if you need a moment to get all this stuff straight.
Nightingale 9 Moving to Seersucker Space, Making Way for Wilma Jean [Eater NY]