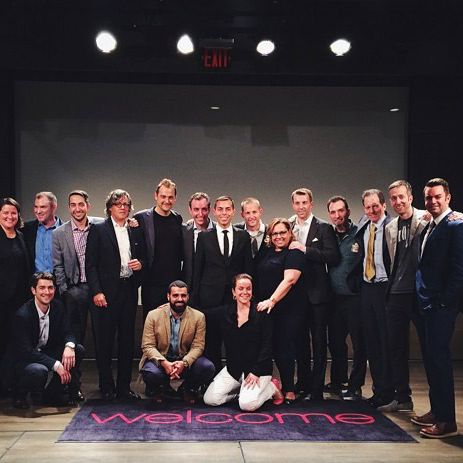 These people know how to pamper.
Photo: Courtesy of Welcome Conference
Yesterday, some of the country's most hospitable people got together in New York. The reason: Eleven Madison Park co-owner, Will Guidara, and Anthony Rudolf, who has worked for Thomas Keller and Jean-Georges Vongerichten, hosted the first-ever Welcome Conference. This day-long celebration of front-of-house service is the first of its kind, and like the MAD Symposium and Cherry Bombe's Jubilee, this congress brought out heavy hitters: cherished manager Charles Masson, Nick Kokonas of Alinea, Gabriel Stulman (who owns like half the restaurants in the West Village), and even Shake Shack's Randy Garutti. These are people who know how to make strangers feel at ease instantly. The conference's topics included the humility of service, creating heart and soul inside a neighborhood restaurant, and using technology without losing sight of human interaction. It was restaurant-focused, as you'd expect, but many of the speakers' points clearly apply to other situations. After all, on its most basic level, hospitality is just about making other people feel good. Here, then, are the day's most interesting takeaways.
1. Learn How to Say No the Right Way.
Hearth's Paul Grieco seeks to create a feeling of "tension and confrontation" in his restaurants. While the Danny Meyer model is to always say yes, Grieco actually encourages his team to often say no. It sounds counterintuitive, but saying no with a smile creates impactful and playful dialogue with guests, as long as it's well-intentioned. "You should not be a goddamn cork-puller — anyone can do that," Grieco said. "You should be a storyteller." The point is there's a right way to speak up for yourself, even in an atmosphere where the customer is trained to think he or she is always right.
2. Find the One Little Detail That Will Make an Entire Experience Better.
La Caravelle's Rita Jammet recalled an excellent meal that started with pre-buttered bread. That's the kind of tiny detail that other restaurants overlook, but diners notice instantly — a shockingly simple way to set a tone for the rest of the night. Gabriel Stulman said that he even hugged a customer who freaked out over a 45-minute wait time. (In fact, his servers compete to see who can get the most unsolicited hugs.) Hugging might be a bit much, but the point is there's always something just a little bit more that you can do make someone feel taken care of — the best managers are always trying to figure out what that is.
3. Just Assume You Always Have to Go the Extra Mile.
Brian and Mark Canlis, of Seattle's famed restaurant, declared, "Bad service is like prostitution." In other words, it becomes clear to customers when they're only getting what they want because they're paying. But that model isn't sustainable in the long term, and the best service happens when a staff actually cares about diners' experiences. The feelings exchanged during a great meal — or any business interaction — last a lot longer than a single check.
4. Don't Let Technology Take Over Your Life.
Nick Kokonas discussed how the online ticketing system for Alinea, Next, and the Aviary has revolutionized the way he does business, but the Fat Duck's Simon King reminded the crowd that hospitality is nevertheless built on a foundation of human interaction. For example, taking orders on iPads might expedite service, but what's lost in the process? In fact, as digital tools only become more prevalent, small personal exchanges — like having someone available to answer the phone — will just start to feel more like special touches.
5. Own Your Mistakes.
"I don't care how perfectly you think everything is going, something is bound to happen because you're human," said the legendary Charles Masson. "It's how you handle it." Masson says he's received notes from customers actually praising how he's handled mistakes. More wise words: "Service is not being beneath someone, but you have to be under someone to push them up."
6. Take Work Just Seriously Enough.
Gabriel Stulman lets servers wear their own clothes (but if it's a sleeveless shirt, they have to shave their armpits), play their own music, and drink on the job (to a certain extent). "If the staff is having fun, that will permeate to guests," he advises. Try to enjoy yourself at work today.
7. Don't Be Afraid to Show Emotion.
Will Guidara, who told a moving story about caring for his mother, stressed the importance of being "fully, emotionally present" at all times. "In the absence of an emotional exchange, it's impossible to have any sort of real, meaningful connection," he said.
8. Take the Lead.
"You're a boss; act like it," Del Posto's Jeff Katz says. "Be in charge." Even though he considers his colleagues his family, he knows when it's time to be firm. Another total boss: Shake Shack's Randy Garutti, whose organization is run so smoothly that he was able to open an entirely new location just hours before he arrived at the conference.
9. Feel Free to Google-Stalk, in a Healthy Way.
Eleven Madison Park is famous for Googling its customers, but it's hardly the only restaurant that uses digital info to create better service. Kokonas uses the database of his online ticketing system to store information from Facebook and Twitter, allowing him to anticipate the needs of each guest. "We're not stalking people," Kokonas says. "We're trying to create a more magical experience." A little research will go a long way.
10. Don't Overapologize.
Frank Bruni told a funny story that never made it into a review: On his last visit to Nobu 57, he pressed the soap dispenser too hard and it exploded on his shirt. Not only did the restaurant try to comp his drinks as an "apology" for the "malfunction" (for an accident that Bruni admitted was completely his own fault), the manager offered to pay for his dry-cleaning bill, or even purchase Bruni a new shirt. Remember: It pays off if you take it easy, even when you're trying to impress someone. People want to feel comfortable, but they don't need to be babied.