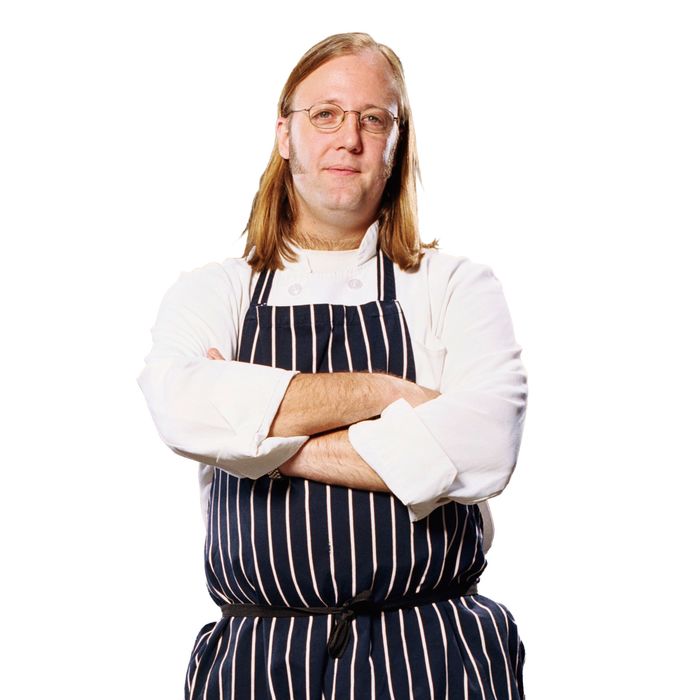 Dufresne, when he opened wd~50 in 2003.
Photo: David Yellen
In February, 2003, the New York Times offered a profile of the Funk Tank. That was the name given to Wylie Dufresne's home kitchen by the chefs that had holed up there, experimenting with ideas that would eventually land on the menu at wd~50, which opened a couple of months later. One detail in the story stuck with many readers: The restaurant wouldn't offer a salad. "I'm not trying to be a jerk," Dufresne said at the time. "Salad just doesn't do it for me." Tim Zagat suggested, in the same story, that Dufresne might wind up rethinking his anti-salad stance eventually. Eleven years later, that hasn't happened, and wd~50's menu is as uniquely cerebral as it's ever been — "bloodless sausage," "fig tobacco" — which is why it's so disheartening to see that the restaurant will close this fall because of real estate concerns.

In terms of pure technical skill, it's always been difficult to beat Dufresne's kitchen staff. There's the precision of the distinctive plating (widely imitated), and of course the modernist cooking methods (now widely adopted). But there are simpler things, like a garnish that's diced impossibly small or those perfect sesame crackers that appear on every table. In the beginning, these kinds of details were the real hints that Dufresne was up to something more important than less experienced chefs who were merely enamored with molecular gastronomy (by the way, it's so nice that we don't often use that phrase anymore). Dufresne's food wasn't just weird for the sake of being weird; you knew that the chef had a deep love and understanding of the old ways, but he was ready to push beyond them. Phil Suarez, who has a stake in the restaurant along with Jean-Georges Vongerichten, said last year of the restaurant's beginnings, "We thought we were working with J.Crew, but Marc Jacobs was coming out of that kitchen."
What's always impressed me about wd~50 is just how willing Dufresne has been to go all-in. He didn't introduce modernist thinking to curious New York diners while also cooking steak-frites. He gave people plates of flattened oysters, and foie gras with sardines garnished with cacao nibs. I still remember eating both of those dishes in 2003, along with squid noodles that Dufresne served with chunks of melon. In the meals that I've had since — too many to count, but the number is obscenely high — there's always been something new, something that had truly never been done before. Foie gras terrine twisted into a knot or exploded so that it looked like a sponge. Yogurt dosed with tonic water (a shockingly ideal condiment for sweetbreads). Skate wing turned into a perfect rectangle. A squeeze bottle full of some otherworldly concoction that becomes noodles when it hits hot broth. Those famous deep-fried mayonnaise cubes. These ideas were just on a different level.
But the problem is that, unlike a progressive movie or album, forward-looking food is literally perishable, and dishes that might feel ahead of their time don't really live on for people to rediscover once they've caught up. So however much chefs and food nerds have heaped praise on Dufresne, it's not so surprising that many members of the public never really warmed up to wd~50. And in a strange way, that's what makes the restaurant even more impressive: Dufresne never backed down. If business wavered, he didn't add a burger or, ahem, a salad to the menu. Even when he started serving fried chicken, it was cold and garnished with both hot sauce and caviar. And it became iconic.
Dufresne told the Times that he's looking for a new location, and that he's still trying out new concepts to introduce at wd~50 before it closes. (He's also got an entire other restaurant, Alder, that's a ten-minute walk from wd~50.) Hopefully, this closing will just be a blip, an opportunity for Dufresne to reboot his particular vision of fine dining. If anything, it should be a warning to diners that even the most celebrated, hardworking chefs aren't immune to the difficult realities of running a restaurant in New York.