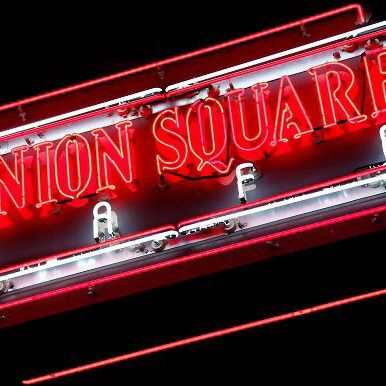 The restaurant's early embrace of Greenmarket vegetables was a genius move.
Photo: Union Square Cafe/Facebook
Last night we learned that Union Square Cafe, which made the central Manhattan neighborhood a full-fledged dining destination just after it opened in 1985, will close and relocate by the end of 2015. Rent has escalated at the East 16th Street space as Union Square itself has become less hospitable to independent businesses and more crowded with big-box cupcake emporiums and candy supermarkets. As one critic intimates that Union Square Cafe is a "tired old" place, it's easy to forget the early innovator has in fact been a pioneer for 30 years. Here are five takeaways from the last three decades.

1. Putting vegetables in the center of the plate.
A lot has been made of the fact that then-27-year-old Danny Meyer was among the first restaurateurs to take advantage of the Greenmarket, which was only open two days a week in 1985 and was by no means a big pull for tourists. At first, the move was less about locavorism and more about placating the former customers of Brownies, the prototypical health-food restaurant that had previously occupied the space for 49 years. In 1992, Meyer told New York that he "was afraid fans would lynch me, so I've always been sensitive about vegetables." Good move.
2. Hiring women for the kitchen when the industry was overwhelmingly dominated by men.
Chef Michael Romano remembered being shocked at walking into a kitchen that was "mostly female" in 1986, which was unheard of at the time. "When I was at La Caravelle I hired a young woman, and the owner, who was the chef, came into the kitchen one day and just freaked out," he told Esquire. "He literally pointed to her and said, 'What is that?'"
3. Nuturing talent.
Just some of the people who've passed through Union Square Cafe on their way to other restaurants: Ben Pollinger, Dan Silverman, Dan Kluger, Emma Hearst, Heather Carlucci, Jason Denton, Joe Ogrodnek, Peter Hoffman, Ralf Kuettel. This list goes on, but moreover, Meyer used the restaurant as a breeding ground for talent that would go on to shine elsewhere in his restaurant empire: Juliette Pope was a line cook at USC before moving to Gramercy Tavern in 1997; she's now its wine director. Kenny Callaghan worked there before he became pitmaster at Blue Smoke and proved New York City barbecue could be a real thing; Claudia Fleming started there before pioneering her hugely influential style of desserts at Gramercy. Randy Garutti was a manager at USC before becoming CEO of Shake Shack.
4. Being conspicuously less trend-focused in favor of friendliness.
"I wanted a place you would not be able to pinpoint what year it opened," Meyer once said. "When Union Square Cafe opened, the great food places in New York tended to be fancier, stiffer, French. There weren't many places where you could eat well that were also down to earth and friendly," he said in 1994 on the eve of opening Gramercy Tavern with Tom Colicchio. Restaurants where the kitchen is serious about cooking but where the dining room staff won't make you feel like an idiot for not knowing what celtuce is have been the ensconced industry standard for a few decades now.
5. Being open about making mistakes.
A kind of supreme infallibility was built into the model of the big, palatial European-style restaurants that dominated New York's dining scene up until the 1990s. Not only did Meyer's staff implement a style of warmer service, the restaurant historically used service misfires to its advantage to build a better restaurant — a cook's incorrectly sliced potatoes became a regular feature of Union Square Cafe's duck confit dish, for example — and Meyer has said "nothing is worse than to just 'whelm' somebody" in reference to food flaws like oversalted salmon. The "useful mistake" approach has since been used to great effect at restaurants like Momofuku and Eleven Madison Park. "The biggest mistakes sometimes lead to the best opportunities," Meyer told Esquire in 2010.
Related: Union Square Cafe Will Close and Move to New Location