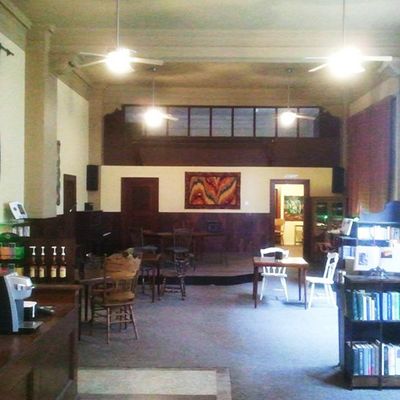 No staff, no service.
Photo: Vault Cafe & Bakery/Facebook
It took David Rekke and his wife, Kimberly, almost four years to renovate a 1920s Valley City, North Dakota, bank building for their café, and stock it with coffee equipment, syrups, tea, a pastry case, tables, books, two pianos, and more. The one thing they forgot to add was employees. Okay, it wasn't an oversight, but the barista-less honor-system business model going on may be an industry first, North Dakota or elsewhere. "At the time I didn't realize how unique that was," Brekke tells KVRR. "I thought it just made sense. I found out later, by Googling, there really isn't anything else like it."
Don't expect pour-overs or single-origin goodness here — the shop uses idiot-proof pod coffee. Customers are expected to pour their own, then self-swipe at a card reader or slide money into a slot. Which, it turns out, they do: "People have been extremely honest," says Brekke in a shout-out to the locals. "When I add up how much has been taken and how much is in the till at the end of the day, people are 15 percent more generous."
Very cool. Also, the shop is showing Shrek tomorrow night, which you don't get at Starbucks.
Unique Coffee Shop Uses Honor System [KVRR]
This Coffee Shop Has No Employees and Customers Are Overpaying [Daily Coffee News]