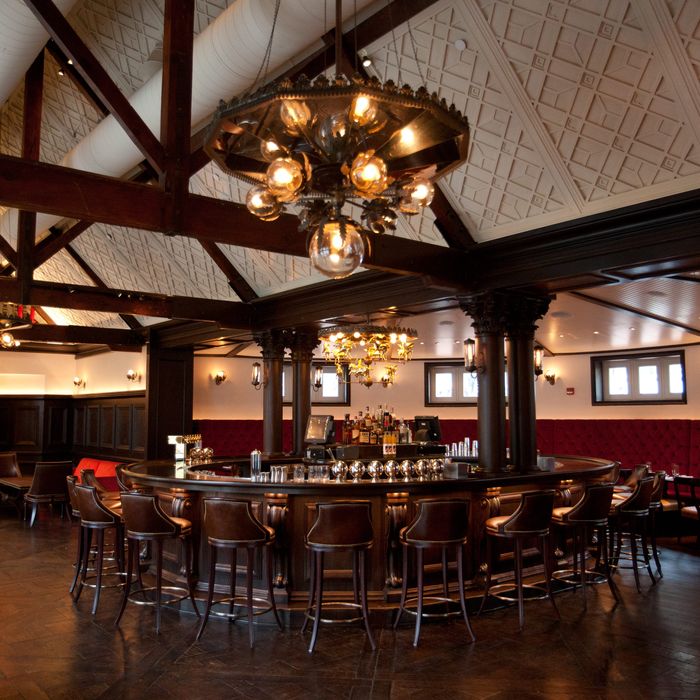 Beware.
Photo: Konstantin Sergeyev
This week, the Underground Gourmet broke down the ingredients of Ample Hills Creamery's new super-dark-chocolate salted-fudge ice cream, on sale at the shop's soon-to-open Gowanus branch. Elsewhere in the city, Pete Wells was unimpressed and uninspired by Tavern on the Green, Ryan Sutton waited hours (but really didn't mind) for Ivan Ramen, and Robert Sietsema enjoyed some tapas. Read it all, straight ahead.
Pete Wells gave no stars to Central Park's revived Tavern on the Green, calling the setting fairy-tale-like, but the venue itself "not a good restaurant yet by any measure." Service was subpar, wine was so warm it was the "temperature of a kiddie pool," and the food was "overworked." Quail was "as dry as a week-old English muffin," and ceviches were carpaccios topped with clunky garnishes and doused with enough acid to "terminate with extreme prejudice." While simpler dishes, like a Serrano ham and Gruyère sandwich fried in butter, were "totally likeable," the pork chop's roasted rhubarb was "stringy, slow," and "half-raw."
In his two-star review, Ryan Sutton said Ivan Ramen was "so good it will make your eyes explode." Sheets of nori wrapped around slow-cooked pork, roasted tomato, and sushi rice made for "umami grenades," and the spicy ramen with rye noodles and pork had the "depth of flavor you'd expect from a fancy French sauce that some guy spent half his life learning to make." While the wait time is long and the deviled thousand-year-old eggs tasted "as neutral as that suburban American staple," the triple-garlic mazemen was so "perfectly al dente," Del Posto could sell it for twice as much.
Robert Sietsema visited Donostia and Huertas, giving both Basque tapas bars three stars. Sietsema found Donostia to be an unparalleled "place to snack and explore the alcoholic beverages of Spain." High points included a whipped artichoke dip, charcuterie, and Montaditos. But Donosita was "more about the booze," with a drink menu so expansive, sampling all of it "could take a lifetime." At Huertas, the migas with duck, croutons, and a "verdant green sauce" was a standout, and the four-course menu — with the likes of toast in a puddle of foie gras — verged "on the superb."
Steve Cuozzo visited Clement, calling the hotel restaurant Gramercy Tavern–esque. In his three-star review, Cuozzo praised farm-driven dishes, like an heirloom beet salad and sea scallops spiked with yuzu that danced "on the palate." The only true failure, the tempura-style soft-shell crab, had too much breading." Desserts, too, were complex and hummed "a merry tune."
Zachary Feldman found Crown Heights's Glady's to be paradise. Per Se and Annisa alum Michael Jacober's restaurant was like the "Caribbean Pok Pok," with dishes like hunks of pork that had "an almost barbecue-like smoke ring" and coconut-oil-fried fish that was "crisp and greaseless." Sides were exceptional, too, including "deeply burnished plantains" and jerk wings, and a free scoop of coconut ice-cream finished off the vacation that was "only a subway ride away."
The New Yorker's Hannah Goldfield explored both Russ & Daughters Café and Black Seed, finding both relative newcomers masters in their given fields. Russ & Daughters Café courted "both old and new" with its "mid-century soda fountain" décor and Gaspé Nova that glistened "like candy." While some bagel purists debate the Montreal style of Black Seed, Goldfield thought its bagels were distinctly New York with "assertive saltiness, satisfying density, and smaller hole[s]" — perfect for its expertly paired sandwiches.
Joshua David Stein gave Bâtard, Drew Nieporent's new restaurant, four (out of five) stars for its Austro-French cuisine. Standouts included the "unexpected juxtaposition" of warm oysters with fried pig's tail and pickles, lamb for two, and octopus "pastrami" with bits of braised ham-hock.
Stan Sagner reviewed Soho's Navy, giving the seafood restaurant three (out of five) stars. While some dishes were too clever, most were well balanced, including a black-bass crudo with rhubarb and apricot oil, and "darn tasty" mussels with charred cornmeal sourdough toast. The perfect trout looked like "it was made by one of Martha Stewart's food stylists."