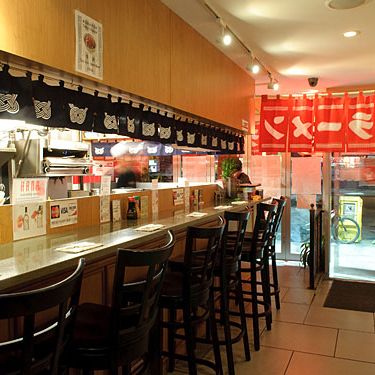 The original Tabata Noodle.
Photo: Matt Dutile
Maung Htein Linn, the chef and proprietor of the ramen-centric Tabata Noodle, Tabata 2, and the recently opened izakaya called Nippori, is from Myanmar but trained in Japan for 11 years, which explains why serious noodle buffs admire the "non-altered authentic Japanese taste" of his soups and carefully made tonkotsu and other broths. Htein Linn now has his sights set on a second izakaya, but interestingly, it turns out that his mini-midtown restaurant empire almost never happened.
He was a zoology student at Rangoon University, not to mention a supporter of Daw Aung San Suu Kyi, back in 1988 when riots erupted and he left the country for Japan. After learning to make ramen in Tokyo, Htein Linn and his wife came to New York, but they were unable to score a lease because he had no credit history.
Fortunately, he met a "Jewish landlord whose grandfather had lived in Burma during the British colonial days" and the pair struck a deal. Htein Linn says he may eventually return home, but he also wants to open an izakaya where diners start with small plates and finish with a big bowl of ramen. Sounds great to us.
Burmese Chef Serves Up Japanese Ramen [Voices of NY]