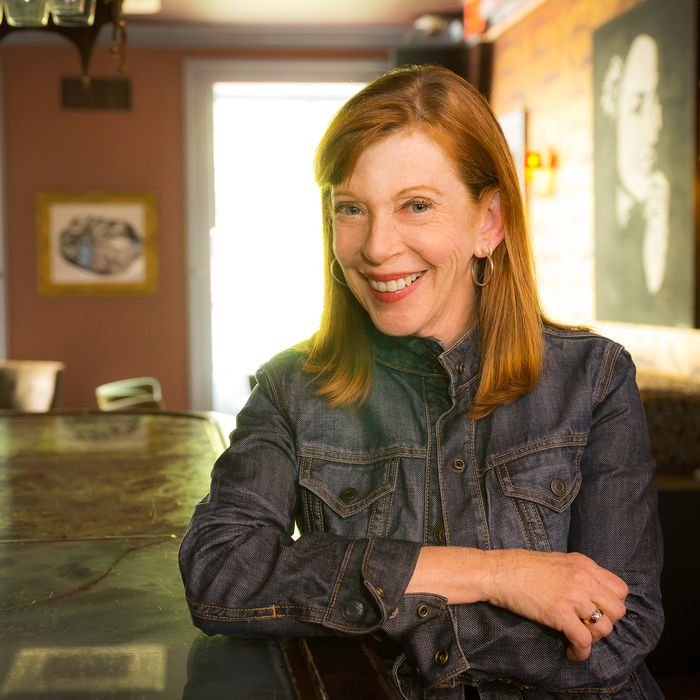 "Thank God I like granola bars, since they make up about 40 percent of my usual food intake."
Photo: Noah Fecks
Susan Orlean, the celebrated author and staff writer at The New Yorker, now splits her time between Los Angeles and the Hudson Valley — where, famously, she once raised chickens. Although raccoons have since massacred her beloved birds, Orlean still reaps the benefits of farm life with fresh strawberries and local beef. But this week, her meals weren't entirely glamorous: Orlean also endured tasteless Chinese food, ate turkey slices while standing over a sink, and powered through a pretzel "so hard it could have been used as a weapon." Read all about it in this week's Grub Street Diet.
Friday, June 20
I just got to my place in the Hudson Valley after being in Los Angeles all winter, so my refrigerator is empty, all the food in my pantry is expired (four years past the sell-by date counts as expired, right?), and my garden — which usually has lettuce and herbs by this time — is a case study of benign neglect and the effects of the polar vortex. This calls for an emergency menu until I can get to the store. I packed a bunch of granola bars on my road trip from L.A., so that's breakfast. I also packed a sleeve of Nespresso capsules, so I'm all set for coffee, at least.
Midday, we went hiking at Bash Bish Falls, one of the most beautiful spots up here, and afterwards my son lobbied successfully to go to a bad Chinese restaurant in a small town nearby. I had egg-drop soup that looked like egg-drop soup but tasted like suspiciously thick warm water, and a Peking-duck-and-scallion roll-up that was tasteless. The sad thing is that there's so much great food up here — all the Culinary Institute graduates that open restaurants nearby, and all the locally grown food and local cheese and great bakeries, and I'm eating bad Chinese food. At least my son was happy.
We met friends for dinner in Red Hook at a wonderful Italian restaurant called Mercato. I had a kale salad — the most delicious cliché you can imagine — and my husband and I shared lamb chops with lentils and tagliatelle Bolognese. We knocked off a bottle of Prosecco for good measure, and ended the meal with salted-caramel ice cream. This made up (mostly) for lunch.
Saturday, June 21
Finally, I went grocery shopping, so my day started with my usual breakfast of yogurt with something mixed in — in this case, Kashi. We were in a hurry because we had tickets for Macbeth at the Armory and had to drive down to the city in time for the 2 p.m. show.
It dawned on us too late that we hadn't built in any time for lunch, so we bought street pretzels from a vendor on our way into the Armory. I used to really love those pretzels, but I think the quality has really gone down in the last few years. Someone should look into this, I think. The first pretzel the vendor handed me was so hard, it could have been used as a weapon. I traded it for one that was ever so slightly softer, but barely. My lunches haven't been working out so well this week.
After the play, we headed down to Eataly for an early dinner. I had the finnichio salad and a salsicciotta pizza, which has sweet sausage and mushroom, and a glass of a white wine called Gavi del Comune di Gavi. We wanted gelato, but the line was way too long.
Before bed, I had graham crackers and milk.
Sunday, June 22
I made French toast for everyone. I wish I could say I used eggs from my own chickens, but raccoons massacred all my chickens last spring, and I haven't gotten new ones yet. When I still had my hens, I was shamelessly egg-proud and insisted that everyone ooh and aah over how delicious their eggs were. And they really were. Pre-massacre, I also had guinea fowl and ducks, so I had a nice array of eggs to cook with. I loved showing off and letting guests know they were eating, say, guinea fowl French toast. Anyway, I made today's French toast the ordinary way, with eggs from the store. Not as much fun, I assure you.
I discovered that I had a panini maker in the closet. How did it get here? Did I buy it? I have no idea. I made panini for lunch — ham for my son, cheese for me — because I am apparently the owner of a panini maker.
We went to our friend Tim McHenry's for dinner — he runs all the events at the Rubin Museum and is a fabulous cook. He claimed this would be a casual supper he was throwing together, but really? How casual and supperlike is purslane salad (probably from his garden); porcini risotto; and short ribs grilled on his outdoor fireplace (the meat from a neighbor's farm)? By the way, we have ten Black Angus cattle of our own, but they're just youngsters.
For dessert, my husband had made shortcakes and topped them with incredible strawberries he and my son had picked at a local farm, Thompson-Finch. My husband is a highly specialized, narrow-cast cook. He can make three things: roast goose, shortcakes, and grits. He also likes to churn ice cream, but if you asked him to make a ham sandwich, he'd be lost.
Monday, June 23
Breakfast: the usual (yogurt) with my very favorite cereal, Barbara's Peanut Butter Puffins, and some of the remaining Thompson-Finch strawberries.
Lunch: I was trying to get work done today, so lunch was a working person's special: a couple of slices of roast turkey slapped onto some Wasa crackers, eaten over the sink in under five minutes. Very glamorous.
I was feeling too harried to cook, so we decided to go out for dinner. Even though our town, Pine Plains, is very small, it has two good restaurants — Lia's Mountain View and Stissing House. We love Stissing House, but they were closed. Lia's doesn't look like much, but it has wonderful home-cooked Italian food. (We run into Mario Batali at Lia's often; his in-laws, who used to own Coach Goat Farm, live a few miles away.) I had chicken piccata and a salad with Coach goat cheese and walnuts. When we got home, we finished the leftover strawberry shortcakes.
Tuesday, June 24
Started the day off all wrong. I had to go to the city to tape an online class I'm teaching for a website called Skillshare. I planned to take the train, but the train was sold out, so I had to drive, which meant rushing out the door half-cocked with a cup of coffee and a granola bar. Thank God I like granola bars, since they make up about 40 percent of my usual food intake.
We were still in the middle of the shoot when lunch rolled around, but it happened that Skillshare has lunch catered on Tuesdays, so we didn't have to go out. The buffet included shrimp-salad sandwiches and a super-spicy cabbage slaw that I loved, although my lips were burning for hours afterward.
I had another granola bar on my drive home from the city. Thank you, whoever invented granola bars. I was exhausted when I got home. My husband and son went to a minor-league baseball game and were probably having peanuts and hot dogs for dinner, so I roamed around the kitchen trying to figure out what I felt like eating. I ended up making a big salad with greens and goat cheese and pecans and anything interesting I could find in the refrigerator. I love to cook, but not just for myself. During most of the year, I cook a real dinner at least four nights a week, so it feels strange that I haven't yet made a proper meal since we got back to New York. It's nice to have had the break, but I'm ready.
Wednesday, June 25
My husband surprised me with breakfast in bed this morning — cappuccino, yogurt, and a piece of sourdough toast drenched in honey. He's a little obsessed with this particular honey, which is made by bees in New Zealand and sold in a store in Rhinebeck, so he sat there watching me eat the toast, just so he could ask me for the millionth time if the honey was the best thing I'd ever eaten. It actually almost is, so I don't mind humoring him, and anyway, getting breakfast in bed is worth it.