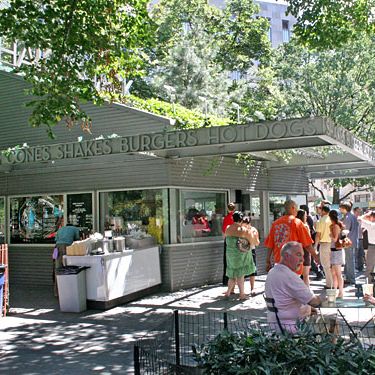 Who even knew there was a basement underneath here?
Photo: Shanna Ravindra
It was just a few weeks ago that Madison Square Park was chockablock with eager Shake Shack fans looking to score limited-edition shrimp-patty burgers designed by David Chang, and others loaded with sliced black truffles and applewood-smoked bacon, and now here's news that Danny Meyer's original Shack will close for five months while it undergoes renovations. Specifically, Shake Shack No. 1 will grow a total of four feet in width, get a shiny new kitchen, and its basement will be redone to "create additional storage space," DNAinfo says. Last week it was announced that restaurateur Danny Meyer will close and relocate Union Square Cafe, his first restaurant, in 2015.
The Madison Square Park Shack upgrade plan already has initial approval from the city's Design Commission and Parks Department, and will not cause other areas of the park to close. Edwin Bragg, a Shake Shack rep, emphasizes that even though the kiosk is in a public park, it will pay for its own renovations. Various permits and local approvals are still apparently pending, but Bragg says if all goes well, renovations will occur "hopefully in the winter," when there are traditionally fewer customers queueing up for hamburgers.
Shake Shack to Close Madison Square Park Outpost for Five Months [DNAinfo]
Related: 5 Ways Union Square Cafe Changed Dining Out in New York City