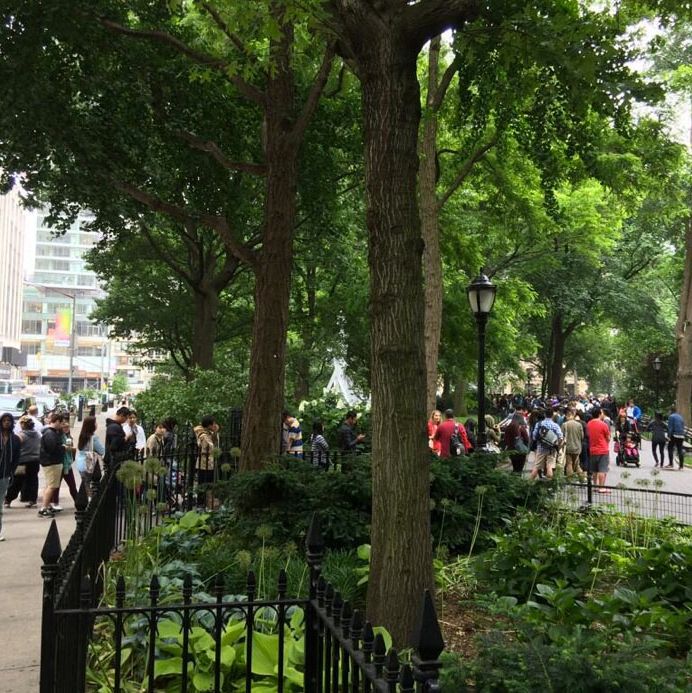 600 people were in queue before the Madison Square Park burger stand even opened.
Photo: Shake Shack/Twitter
Today is day four of five for Shake Shack's anniversary celebration, and while we already knew that the first customers for Daniel Humm's Gruyère and black-truffle-garnished burger started to show up around 7 a.m., we're now told that the queue wraps through Madison Square Park, onto Madison Avenue, veers a hard left onto 26th Street, goes down the block, and then some. Greg Waters, the chain's senior manager of of marketing and communications, tells Grub it is "definitely the longest line we've ever had at Shake Shack." Two things seem to be certain here: Truffle burgers trump shrimp burgers, and there are probably going to be some really weird Missed Connections posted on Craigslist tonight.

People are waiting for this, which, black truffle content considered, likely has a street value of more than the $8.50 Shake Shack is getting for it. ($1 goes to park conservation efforts, mind you, too.)
Oh, and look: Champagne!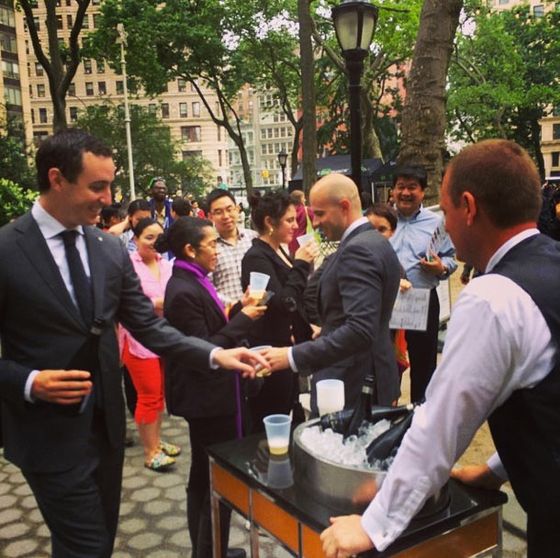 Oh, and look: Champagne!

Eleven Madison Park owner Will Guidara, who knows a thing or two about service, with the Champagne cart.Photo: Randy Garutti/Instagram

#DecadeofShack @shakeshack excited for Chef Daniel Humm's black truffle burger today. Oh and a coffee shake! pic.twitter.com/kY5cdNOtIf— Hu Trang (@jintrang) June 12, 2014

Just a reminder that, in addition to the tuber melanosporum extravaganza, today is the chain's actual birthday. As such, there's music, and birthday cake prepared by Dominique Ansel, and a "pay what you'd like" deal on Shack-cago Dogs. More information here.

Related: 'Longest Line in Shake Shack History' Happening Right Now in Madison Square Park