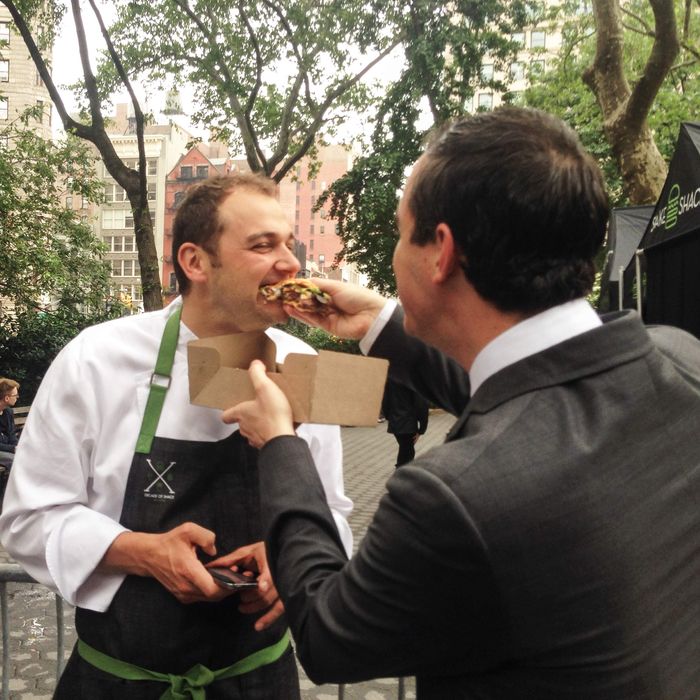 Will Guidara feeds Daniel Humm his record-breaking Shake Shack burger.
Photo: Sierra Tishgart
It's only appropriate that Eleven Madison Park's Daniel Humm is responsible for the longest line in Shake Shack's ten-year history: The Madison Square Park burger hut is where Humm first started his New York cooking career (sort of). "When I met Danny Meyer for the first time, it was here in the park," Humm says of the restaurant icon, who owned Eleven Madison Park from 1998 to 2011. "We ate at Shake Shack together nine and a half years ago. That was the beginning, for me, to come to Eleven Madison and start that journey." In fact, the two places have a lot more in common than that: Shake Shack actually started as an offshoot of EMP, a connection that was just the beginning of their parallel legacies.

In 2001, when Danny Meyer and Randy Garutti launched Shake Shack as a hot-dog cart in Madison Square Park, they operated out of EMP's private dining-room kitchen just across the street. "We had lots of room to do it because we were mostly busy at dinner, so we had all morning and lunch to prep and steam these hot dogs," Meyer recalls. "We would walk them out to the park and put them in the hot-dog cart. We made lemon-verbena iced tea and beet-stained potato chips, and that was the hot-dog cart." That went on for three years: the summers of 2001, 2002, and 2003.
Meyer says that he launched the hot-dog cart primarily to attract New Yorkers to the park, but he also wanted to retain an important part of EMP's staff: "We had the best crew of coat checkers you could imagine at Eleven Madison Park," he says. "It allowed us to give them a job during the summer — usually, we wouldn't be able to hire them until September, and we did not want them to get away and go to another restaurant."
Of course, the little cart that could became the first permanent Shake Shack kiosk in 2004. With the new digs, the menu got bigger, too, as Meyer decided to "give the hot dogs some company" and add burgers and frozen custard to the menu. As Meyer worked on perfecting his burger recipe, it was actually Floyd Cardoz, the chef at Tabla (which shared a back hallway with EMP), who suggested that he use Pat LaFrieda's beef. "Pat LaFrieda's story doesn't start in 2004, but he was not a household name," Meyer says. "Now every place on earth wants Pat LaFrieda's beef for their burgers."
Meanwhile, EMP itself wasn't the icon it would eventually become yet, either. Meyer opened the restaurant as a French brasserie in 1998, but it wasn't until 2006 that he hired Humm to head up the kitchen and turn the restaurant into a fine-dining destination. And when Humm started, much of Shake Shack's production still happened in EMP's kitchen. "As a matter of fact," Meyer says, "We carved out about 25 square feet from our wine cellar, and that became Shake Shack's office." So, how did the two businesses get along? "It was a little odd in those early years," Meyer admits, "Because we were making Eleven Madison Park into an even more refined restaurant, and we'd have Shake Shack workers walk in — hot after a long day of griddling burgers — through this gorgeous dining room to get to the locker room."
Then again, sweaty burger chefs parading through the dining room wasn't the worst thing, since Shake Shack's profitability helped keep EMP afloat during the economic downturn. (In 2009, Lehman Brothers announced its bankruptcy on the same night that the restaurant hosted a thousand-dollar-a-head benefit.) As Meyer says, "There were some years that Eleven Madison Park took a big hit with the recession. We were not doing well. Without Shake Shack, I'm not sure that Eleven Madison Park would have survived."
After a glowing four-star review from the Times, the restaurant began booking up on a nightly basis, and in 2011, Humm and GM Will Guidara (who joined the restaurant in 2006 after working for Meyer at the Modern) had enough exposure to open a second restaurant, the NoMad, a few blocks away. The catch, famously, was that they didn't want to leave EMP, and Meyer wouldn't be involved in the NoMad, so Humm and Guidara — with the help of a billionaire banker-investor — purchased the restaurant from Meyer.
"Once we emerged from the recession and Eleven Madison Park was doing great, we … what do you say … divided the two businesses," Meyer (who very rarely is at a loss for words) explains. "When Shake Shack was born, the business was owned by Eleven Madison Park. Since we were doing all the work there, we just gave it to [EMP's] investors. And then we separated the two businesses so that Shake Shack was no longer helping to subsidize Eleven Madison Park. It got to stand on its own, and it was healthy for both businesses."
"Healthy" is an understatement: Shake Shack is a full-blown empire with 46 locations around the world, and Humm and Guidara continued to refine EMP to the point where it ranks among the world's most elite restaurants.
Meyer says of the sale: "It was very bittersweet at the beginning, in the same way that it was bittersweet when my oldest daughter went off to college. But to see someone become independent and grow on their own is very rewarding. I have so many amazing alumni, but I don't know that I've met too many chefs who are more gifted than Daniel Humm." It turns out that Humm can even make a mean burger of his own, and last week's record-breaking line was like a little reunion for the two empires. As Meyer puts it, "We are joined at the hip."