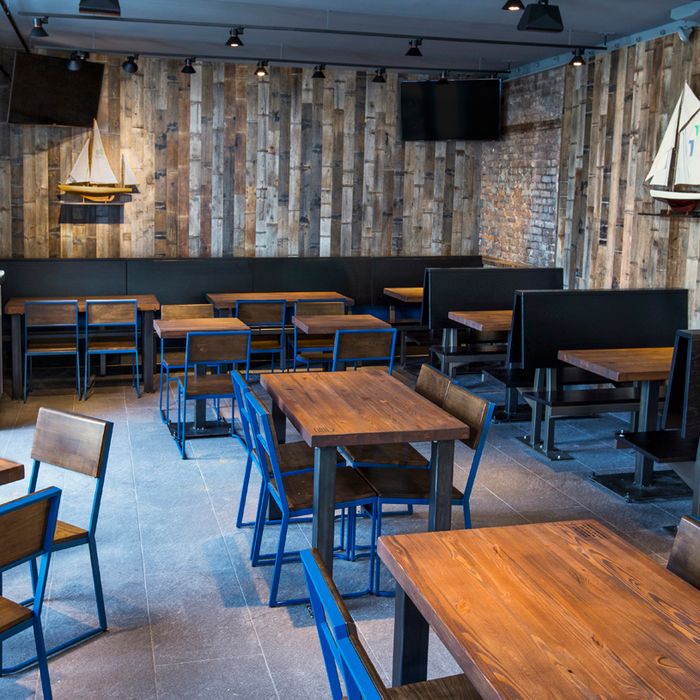 Tabletops have been fashioned out of old beams salvaged from an old Dumbo factory.
Photo: Mercedes Noriega/Shake Shack
Hopefully, Shake Shack enthusiasts have had time to sufficiently recover from last week's nonstop festivities and are now all caught up on their Shackburger origin stories, because the chainlet is now opening its newest New York City location this morning at the corner of Old Fulton Street and Water Street in Dumbo. The dining room of Brooklyn's second Shake Shack has been outfitted with cedar planks stripped from old Manhattan rooftop water towers, and along with the reclaimed wood tables and chairs, which have bright blue metal trim, the space is decorated with model schooners, lending to a nautical vibe.
As is custom, the new Shake Shack has a few location-specific features:
• It's the first to have the chain's Frog's Leap "Shack Red" and "Shack White" on tap.
• One new concrete, called "Brooklyn Pie Oh My," consists of a slice of Four & Twenty Blackbirds pie blended with vanilla frozen custard. Pie flavors will rotate; first up is strawberry-balsamic.
• The other new concrete is based on Dumbo's tourist attraction carousel. The so-called "Caramel Carousel" is made with a base of vanilla frozen custard with banana, sugar cone pieces, caramel sauce, and sea salt.
• Five percent of the proceeds from the aforementioned refreshment benefit Badass Brooklyn Animal Rescue, a nonprofit so worthy you should probably order the concrete even if you hate bananas.
• Yes, that's a real gas-burning fireplace by the front window, which is nice because Dumbo is cold in February.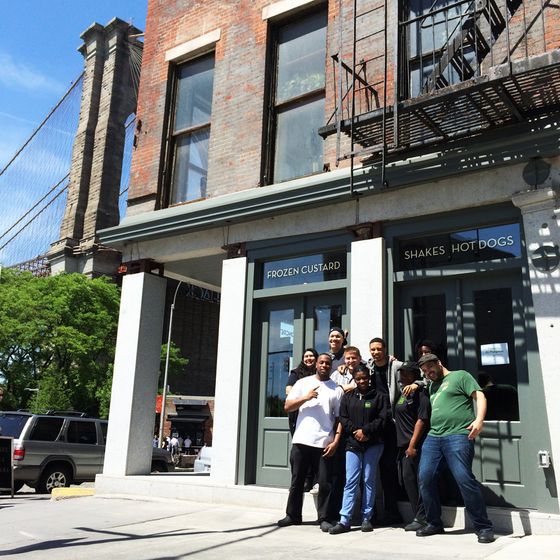 Cheers to you, Shack crew.Photo: Shake Shack

Related: Why Shake Shack and Eleven Madison Park Only Exist Because of Each Other