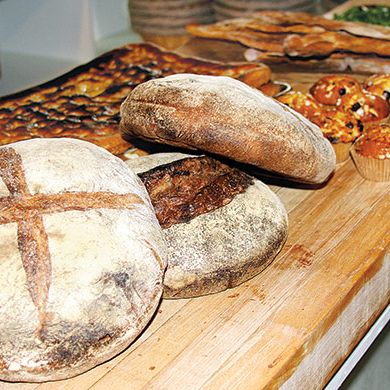 Photo: Cassandra Rose Tannenbaum/New York Magazine
Five years ago, when Edoardo Mantelli opened his terrific Saraghina pizzeria, he told us that he'd been obsessed with pizza all his life. Now he has a confession to make: "I have always been in love with bread." Not that he's dumping pizza. But next week the Margheritas and the marinaras will have competition in the form of this new next-door bakery's ciabatta, focaccia, bastone, micca (like the French miche), and pane di campagna—all made with organic flours and natural leaveners. And because man—and clearly Mantelli—cannot live by bread (or pizza) alone, the shop will also sell fresh pastas, sandwiches, pastries, and coffee to go.
Saraghina Bakery, 433 Halsey St., nr. Lewis Ave., Bedford-Stuyvesant; 718-574-5500
*This article appears in the June 2, 2014 issue of New York Magazine.