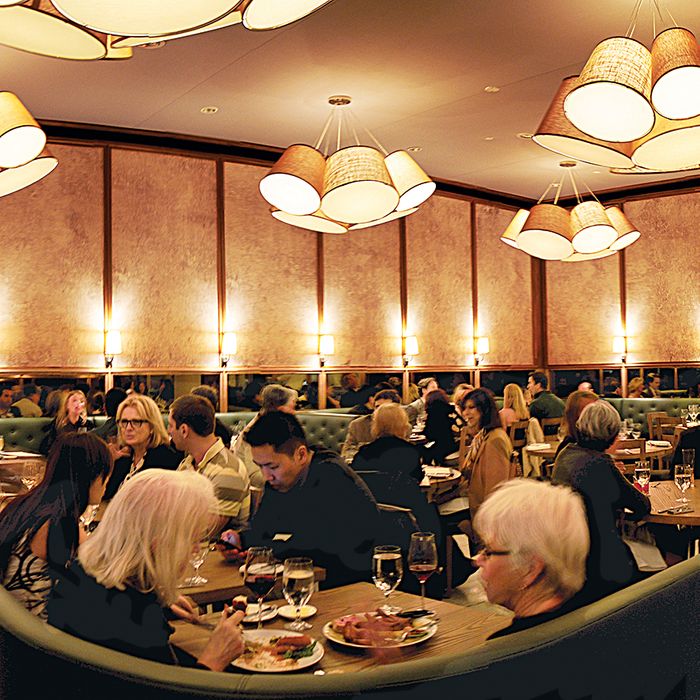 Zachary Feldman is not a fan of the Gander.
Photo: Sarah Silberg/New York Magazine
This week, the Underground Gourmet explored the accelerated Brooklynization of Chinatown's Canal Street. Elsewhere in the city, Pete Wells dined at the Simone, Ryan Sutton found disagreeable service at Sushi Nakazawa, and Steve Cuozzo enjoyed French Louie. Read it all, and more, straight ahead.
In his three-star review, Pete Wells hailed the Simone as the kind of upscale "mom-and-pop" restaurant the city's been missing. Wells praised the old-school French cuisine, like main courses that paired two takes on a protein, such as the crisped boneless duck thigh with slices of "surreally tender" breast. Desserts struggled a bit: The lemon tart wasn't "puckery enough" to stand up to its sugary meringue, but the Lord Baltimore cake was fantastic, "the way Lord Baltimore intended."
Ryan Sutton dined at Sushi Nakazawa and found the fish to be impeccable, but the hospitality in need of work. The golden-eye snapper was kissed by a blowtorch and its oils oozed "like a pat of melting butter on toast," while the sake service "ranged form excellent to craptacular." Three stars.
Steve Cuozzo paid a trip to French Louie this week, enjoying the "modern-Parisian menu." In his two-star review, he singled out the cold white asparagus and the chickpea flatbread "grand socca" — "a vegetarian heaven." But the buckwheat pappardelle with oxtail ragout was "gummy," and the lamb blade chops "tasted of gas," but fish dishes like flounder Grenobloise "tasted like a dream."
Zachary Feldman found the Gander's casual approach to be misleading. The enormous restaurant takes up "one-third of a city block" and does a "piss-poor job at hiding its upper-crust trimmings." Although entrées were generous, appetizers like the buffalo-style sweetbreads were sparsely portioned. While the roasted white elf mushroom "caused a feverish plate-grab," others dishes, like spot prawn crudo, fell flat.
The New Yorker's Hannah Goldfield visited Central Park's Tavern on the Green and was unimpressed by the overpriced food. The formidable lamb shank fit the restaurant's ostentatious theme but, like most of the dishes, looked better than it tasted. The $18 grilled cheese was tiny, and the squid salad was comprised of a single squid. Desserts, like "the world's dinkiest" brownie sundae, did not redeem the restaurant.
Stan Sagner reviewed Talde, giving the "Asian fusion with a dose of N.Y. chutzpah" three (out of five) stars. "Unapologetically" seasoned dishes included yuzu-spiked guacamole and Chinese pork-and-chive dumplings with pretzel-style wrappers. But the pad Thai had "off notes of a high school marching band that had missed a few days of practice."