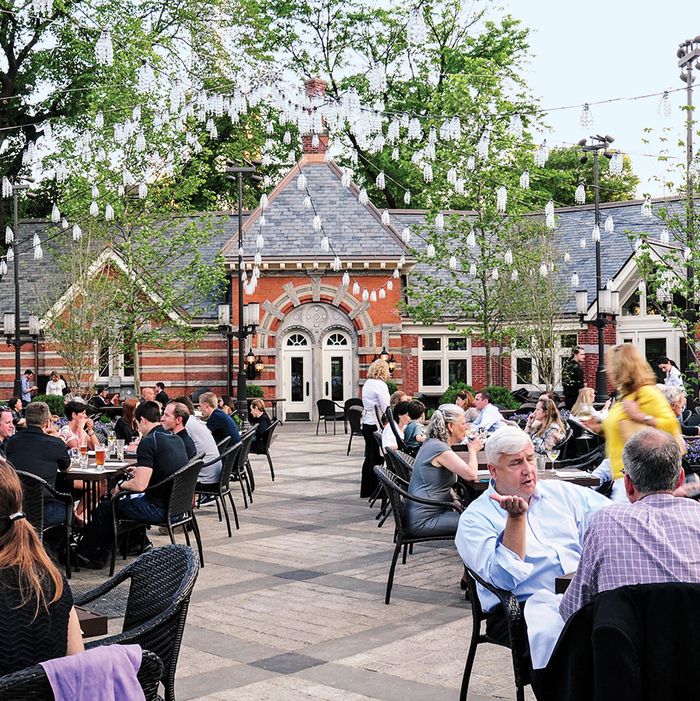 Tavern on the Green
Photo: Sarah Silberg/New York Magazine
There are many parallels between the hothouse worlds of restaurants and theater, of course, but nostalgia isn't generally one of them. Chefs and restaurateurs may attempt to resuscitate ancient styles of eating and drinking (like at your neighborhood mixology bar, or the neo-red-sauce joint Carbone), but unlike on Broadway, where retread revivals are the norm, the revival of an actual dining franchise is a rare thing. In the case of Tavern on the Green, however, you can't blame successive generations of nostalgic entrepreneurs for trying. Since first opening in 1934 in a converted sheepfold off 67th Street, on the western edge of Central Park, the storied franchise (which is still licensed by the Parks Department) has been a reliable hit. Joe Baum put the restaurant on the national culinary map during the 1960s, and when Warner LeRoy doubled the capacity several years later and added the famous Crystal Room, it became one of the great circus-dining destinations in the world.
LeRoy's heirs ran the profitable old production for years (in 2006, it was still the second-highest-grossing restaurant in the USA, behind Tao Las Vegas), until the great crash of 2008 brought their company to its knees. Now, after years of drama and delay, Tavern on the Green has opened its doors once again, this time under the direction of a hospitality operation originally from Philadelphia called the Emerald Green Group. LeRoy's Crystal Room was torn down a couple of years back, but now it's been replaced by a clean, white, glassed-off space, crowded with slightly oversize white ­leather-topped tables and chairs that look like they've been designed for the dining room of Disney's soon-to-be-launched Frozen-­inspired cruise. This space is flanked by the beamy, comfortable Bar Room, where you can sip cocktails named for each of the five boroughs, and another behemoth dining zone called the South Wing, which is colored in soothing country-club hues of green and woodsy brown.
"Everything looks much brighter now," said one of my guests hopefully as we tried to get our bearings in the clamorous main dining room. She used to come to the old restaurant every year for her birthday, she said, to sit with her parents in the Crystal Room and gawk at the liveried doormen dressed in their jodhpurs and top hats. She couldn't remember precisely what they used to have for dinner back in those golden days, "but it probably had something to do with chicken." The new Tavern menu, which is overseen by the well-traveled chef-consultant Katy Sparks, also features chicken, although now the bird is of the free-range variety, and it's enlivened with kabocha squash and soy-braised shiitakes, among other newfangled delicacies. There's also a "local" duck egg available on the muddled new menu, according to the current style, along with an array of other dishes prepared on "The Hearth," "The Grill," and "The Plancha."
Sparks and her employers are clearly attempting to introduce Tavern's clientele to the wonders of the boutique, farm-to-table era, but when you're cooking for 700 people per seating, that's no easy trick. My Tavern salad sounded quite grand on the printed page ("local greens with Nettle Meadow Kunik, La Quercia speck, roasted spring carrots, raw asparagus in a walnut-aged sherry vinaigrette"), but when it arrived at the table, it looked like something you'd be served at a third-rate country club. The wood-roasted Maine mussels didn't taste of wood or smoke at all and were dappled with the kind of vulcanized croutons one usually encounters in a high-school buffet line. The trio of ceviches (salmon, yellowfin, and scallops) tasted vaguely of cleaning chemicals, and the smoked- and cured-fish plate would have been better if the organic Irish smoked-salmon portion of the dish hadn't contained sand grit.
Some of the larger-format entrées tended to work a little better, but rarely well enough to justify the ridiculous top-drawer prices. "This isn't blowing me away," muttered the guest to my left as we regarded a limp portion of yellowfin tuna, which cost $38 and was served with a meager scattering of cremini mushrooms, a few tired arugula leaves, and a curl or two of bacon. I heard similar comments about the faintly rubbery quail entrée (with "wood-roasted" grapes and a mound of stiff South Carolina grits), and the Lobel's strip steak, which costs a cool $56 and is plated with a chalky serving of dry-tasting patatas bravas instead of good old French fries. If you're in the market for a generous joint of meat, try the braised lamb shank, but, as in the olden days, the safest choice when choosing your dinner at this illustrious tourist trap is probably the chicken, which is nicely charred and flavored with a combination of cumin and marjoram.
Not that it seems to matter right now what kind of food is served at this most durable of big-city dining productions. On my visits, people were lined up for their reservations at the front of the house like punters checking into the Venetian in Vegas. There were packs of addled, backpack-toting tourists milling around in the crowd, nostalgic couples from the neighborhood, and animated outer-borough families dandling babies dressed in pink. They perused the tastefully curated tchotchkes in the gift store (a sheep-emblazoned spirits flask costs $28), hoisted the oversweet borough-themed cocktails (avoid Staten Island, made with rum, coconut water, and pineapple juice), and discussed the merits of the pre-potted desserts. These include a cafeteria-quality ricotta cheesecake and a thin, incoherent brownie sundae served in a cereal bowl. My sturdy brick of red-velvet cake wasn't too horrible (although, sadly, it's no longer on the menu), and neither was the perhaps too salty ­single-origin-chocolate mousse, made with chunks of Dominican chocolate supplied by those totems of the postmillennial artisanal movement, the Mast brothers from Brooklyn.
No Stars
Tavern on the Green
Central Park W. at 67th St. 212-877-8684; tavernonthegreen.com
Hours: Dinner Sunday through Thursday 5 to 11 p.m., Friday and Saturday till midnight; late-night menu, seven days till 1 a.m.
Prices: Appetizers, $9 to $26; entrées, $24 to $56.
Ideal Meal: Roast free-range chicken, single-origin-­chocolate mousse.
Note: The specialty house cocktails may be a little suspect, but the Bar Room offers a solid selection of East Coast craft beers by the bottle and on draft.
Scratchpad: One star for the generally tasteful renovation and the comfortable Bar Room, minus a star for the new menu, the cafeteria-style execution, and the exorbitant prices.
*This is an extended version of an article that appeared in the June 16, 2014 issue of New York Magazine.