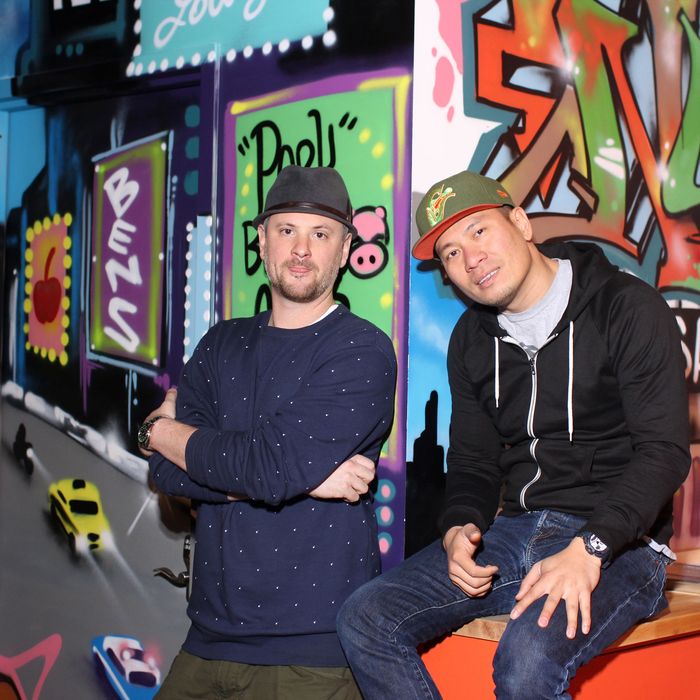 Ben Daitz and Ratha Chaupoly, bánh mì innovators.
Photo: Melissa Hom
Come Sunday, Ratha Chaupoly and Ben Daitz will close their first Num Pang shop, which kick-started a mini-empire of Cambodian sandwiches when it opened in 2009. Just as Danny Meyer cited a rapidly changing neighborhood as among the factors that led to the decision to close and relocate Union Square Cafe, announced earlier this week, Chaupoly and Daitz say it's an incoming construction project — luxury condos, specifically — that's causing the closure. Here's their full statement, good news included.
We are sad to announce the closing of our very first shop in Union Square this Sunday, as the building is being converted into luxury condos. However, we've found a new home across the street at 28 East 12th Street and hope to make the new Num Pang Union Square even better than before. Until the new location opens, please visit any of our other Num Pang locations around NYC [Grand Central, Nomad, Chelsea Market, Times Square and Brookfield Place] to enjoy our signature Cambodian sandwiches.
So, all in all, some pretty good news — they'll just have to get a few hand-trucks to shuttle their arsenal of fermented condiments and squishy bread across the street. Num Pang last month opened a shop at Hudson Eats in Brookfield Place.
Related: How Num Pang Became New York's Quietest Restaurant Empire