These images would be deplorable without context, but because they depict entrepreneur and art mogul Charles Saatchi choking celebrity chef (and ex-wife) Nigella Lawson just as he did in real life at a Mayfair restaurant a year ago, they are just the worst. The incident, which happened in public, preceded the couple's separation and divorce, which played out amid allegations of drug use and other dismal things as a British courtroom spectacle. Now the ordeal has its own dismal commemorative art: No fewer than seven depictions of the choking incident have been spotted among the 40,000 pictures on display at saatchiart.com, a Los Angeles-based online art store which allows artists to market sell originals and print; the site has ties to Saatchi's famed London gallery and takes a cut of all sales.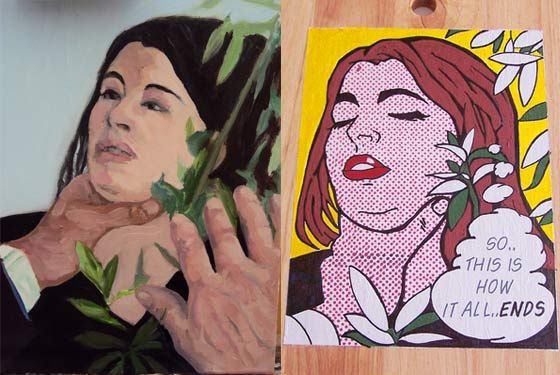 The enamel-on-cutting board one on the right is maybe a riff on Lawson's "Domestic Goddess."Photo: Jane Kelly/Saatchi; Pete Jones/Saatchi

The Daily Mail goes ahead and christens it a new genre called "throttle art," but meanwhile, the artists themselves explain their motives are about something else entirely: Of Art Collector Throttling a Cook, above left, Jane Kelly says, "I put it on there to have a laugh at Saatchi." A former Saatchi & Saatchi employee's Lichtenstein–ish Last Course is done up on a cutting board, which is perhaps some kind of nod to Lawson's "Domestic Goddess" cookbook-author persona.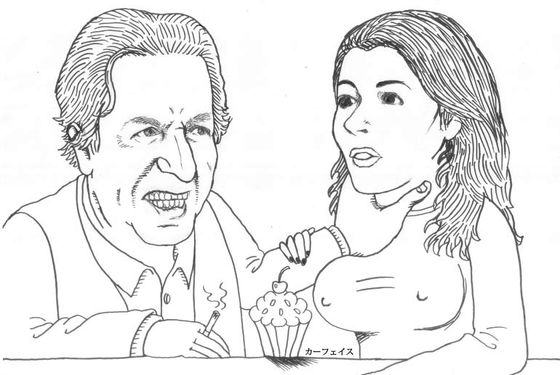 Charles Saatchi vs Nigella Lawson, a pen-and-ink drawing by Carface Margybab, went for $251.Photo:
Carface Margybab/Saatchi


So, what's happening here? Saatchiart.com is just the middleman between artists and collectors, after all, and it's not as if these often garish pieces were commissioned by Saatchi himself. They are, however, prints and works being sold under the banner of his name, and apparently as a wry form of protest.
Still, as a submission-based marketplace, there's a standard user agreement in place that prohibits artwork that infringes on copyright, or is otherwise "defamatory," "violent," or "threatening or promotes violence."
A few of these categories would seem to apply to these, but the site's administrators disagree. "Saatchi Art does not believe in censorship unless the material is pornographic or incites racial hatred," the site's chief curator says. "Would it have been a better story if I had censored artists whose work might be personally disobliging?" Saatchi himself said, explaining the listings and impulse against censorship to the Mail.
Meanwhile, Saatchi Art's commission from each sale is 30 percent; artists get 70 percent.
Darren Udaiyan, the guy who wants $30,000 for the Simpsons-meets-Van Gogh at the top here, implies that none of this should strike anyone as a statement of any kind about violence against women. In fact, it's been pointed out, the depiction is par for the course for Udaiyan, who identifies with the Stuckist movement, whose members perceive Saatchi as a destructive art-world force. "It's not really controversial," says Udaiyan. "Saatchi is strangling Nigella, but it's also about him squeezing the art market. It works on many levels. It's a comment on the art market and how people control it."
* The post has been updated throughout.
For Sale on Saatchi's Own Art Website … Bizarre Paintings That Mock Nigella Lawson Throttling [Mail]
Related: Charles Saatchi Choked Nigella Lawson at a Restaurant